NDC Proforum-Usa Stand With Bernard Mornah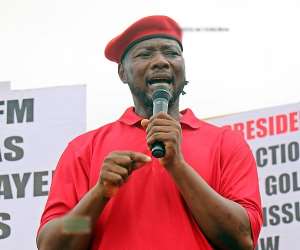 The Proforum-USA wish to announce our support to comrade Bernard Mornah for standing tall in these crucial times to sting the Electoral Commission to reason. We are also grateful to our mother party, NDC for the swift solidarity and comradeship accorded the Chairman of the People's National Convention (PNC) as a member of the Inter-Party Resistance Against a New Voters Register (IPRAN)
As a voice in the diaspora representing professionals from diverse backgrounds, we have through our statements in the past, advised the EC to tread cautiously to avoid derailing the hard-won democratic credentials of our beloved Ghana. Mr. Monah's supposed delivery on the occasion and cited by the CID is just but a true feeling of most Ghanaians as to how the Jean-Mensa-plot will eventually pan out.
The Proforum-USA is further alarmed by the incessant intimidation of the opposition back home in Ghana and the entrenched position of the Jean Mensa-led egoistic commission to at all cost compile a new register for the upcoming polls.
We have raised concerns in the past and expected that Madam Jean Mensa and her team would have by now, detached themselves from the executive manipulation. But unfortunately, their insatiable greed has blown their cover and exposed their agenda; especially when relying on an IPAC that suppresses the views of the largest opposition party.
The NDC Proforum-USA therefore reiterate the position of our mother party-the NDC, that the invitation of comrade Mornah by the CID is a political intimidation on the part of the Ghana Police service. The new register is needless and illogical decision for the 2020 polls.
As a social democratic professional group with our country at heart, the Proforum will continue to advocate for pro-poor policies and proper utilization of the country's vast resources.
We will always support like-minded individuals like Mr. Bernard Mornah in the fight against corruption and protect the sanctity of Ghana's electoral process.
It is a national call and a blessing to all members of the NDC and the general citizenry to rise in solidarity with our comrade and National Chairman of the PNC, Mr. Mornah on Tuesday at the CID Headquarters. The world is watching, and our democracy is under threat.
God bless our homeland Ghana.
Signed
Arnold Appiah
President