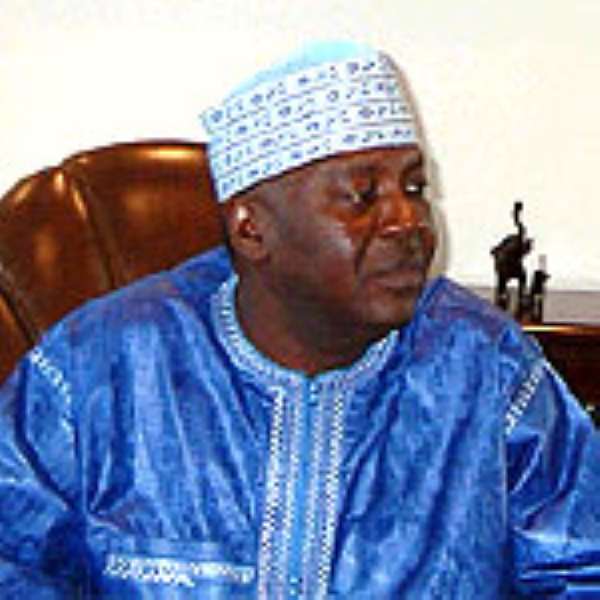 Alhaji Aliu Mahama, Ghana's Vice President
Ghana's Vice President, Alhaji Aliu Mahama, yesterday lauded World Vision International (WVI), a Christian Non-Governmental Organisation (NGO), operating in 100 countries worldwide, for partnering Government to eradiate poverty.

He said since WVI started operating in Ghana in 1979, it had initiated 24 area development programmes and was active in all the 10 regions where its projects were quite visible.
Vice President Alhaji Mahama was speaking during a courtesy call on him by the eight-member Executive Council of the NGO at the Castle, Osu in Accra, who had just concluded its first ever meeting in Accra.
"We see you as a worthy development partner," he said, attracting applause from the delegation, which was led by Mr Denis St. Amour, Chairman of the WVI Board.
Vice President Alhaji Mahama also touched on the commitment of World Vision to support education, the HIV/AIDS campaign, provision of potable water through the drilling of boreholes fitted with pumps and efforts to bring peace to Sudan's war-ravaged Region of Darfur, adding that the African Union was striving to ensure sanity at Darfur to restore hope to the people.
Dr Dean Hirsh, President and Chief Executive Officer of WVI, said the Organisation was supporting 53,000 children in Ghana to pursue education, which he admitted was their right, in the atmosphere of peace and love.
He said WVI was supporting the HIV/AIDS eradication efforts in South Africa where the prevalent rate of the pandemic was high and helping to provide water to drought-stricken countries in Africa.
Dr Hirsh commended Ghana for its track record in good governance. The annual cash budget of WVI in Ghana was 14.8 dollars in 2005 and also received and distributed gift-in-kind, worth 2.2 million dollars during the period.
WVI activities in Ghana include Health and Nutrition, Food Security, Micro-Enterprise Development, Relief and Rehabilitation and Christian impact.
The Organisation has among other projects supported institutional projects for the Physically Challenged Children, constructed 1,000 schools, 105 clinics, 66 Nurses' quarters and sunk 2,000 wells.