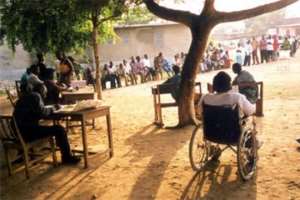 Concerned Persons with Disability (PWDs) of Ghana say the decision to compile a new voters' register will in a way endanger their lives which will eventually disenfranchise them from voting in December elections.
The EC is scheduled to commence the compilation of a new voter register in the coming months ahead of the December general elections.
As several institutions and the main opposition National Democratic Congress (NDC) continue to hammer on the fact that the exercise is needless at this time, persons with disabilities have also raised their concerns.
According to a press statement from the Concerned Persons with Disability, most of them require the assistance of other people to move, and hence it will be a challenge for them to engage in the voter registration exercise because it will mean they will be flouting the social distancing directive.
They insist that it will even endanger PWDs in relation to the Coronavirus (Covid-19) disease because obviously they will come into contact with people they will seek assistance from.
"The apparent endangerment of PWDs that the registration exercise will foster will actually constitute a violation of the Persons with Disability Act 715 of 2006 and the United Nations Convention of the Rights of Persons with Disability", a portion of the statement said.
Another part indicated that, "The very basic right for many PWDs to vote will be jeopardized if the EC succeeds with this intended amendment and compilation because many do not have passports.
"Many have not registered for the Ghana Card and those who have overcome the registration challenges have also not received their cards. The basic right of the vulnerable are hardly protected and the very few that are available are also being actively taken away".
The group is calling on civil society organizations and all political parties to help them convey their frustrations to the EC for them to address as they also seek from the Electoral body to reconsider its decision to discard the existing register which is the basic evidence of the eligibility of all currently registered voters.
Read full statement below: