COVID-19 Saves Domelevo From Prison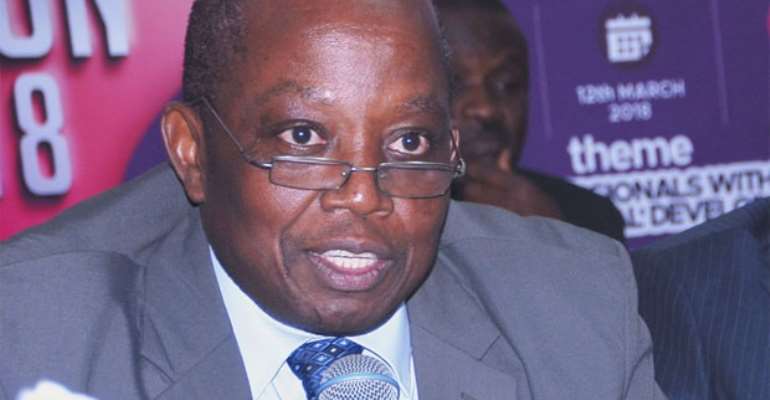 But for the increase in the number of the novel Coronavirus cases in the country that the Auditor General, Daniel Yao Domelevo would have gone to prison after he was found guilty of contempt.
The presiding judge, Justice Afia Serwaa Asare Botwey found Mr. Domelevo guilty of contempt, convicted him on same and in sentencing him said her court "has in mind the very crucial role of the Respondent in our country and would not wish to dog him and discourage him or his office in the performance of his duties with a harsh custodial sentence, especially in the midst of the Covid 19 Pandemic."
The court subsequently decided to caution and discharge him and also warned him to have a serious and timeous attitude to appeals and challenges to the decisions he makes in disallowance and surcharges.
"The fact of being the Auditor-General of Ghana or any other position should not be held as a Sword of Damocles over anyone's head, in a manner as to undermine the judicial process", the court admonished.
The Auditor General, Daniel Domelevo was found guilty of contempt of court after he refused to file his response to an appeal challenging his decision to surcharge Senior Minister, Yaw Osafo-Maafo and four officials of the Ministry of Finance and Economic Planning.
Mr. Domelevo had claimed in his audit report that Mr. Osafo-Maafo and the Finance Ministry officials paid UK firm, Kroll and Associates Limited $1 million for no evidence of work done and as a result, surcharged the individuals involved in authorizing the payment.
The Senior Minister and the others then appealed the decision in court, but Mr. Domelevo failed to respond to the appeal within the time stipulated by the rules of court.
The appellants, therefore, initiated a contempt action against Mr. Domelevo for his alleged refusal to file a response to their appeal against his decision to surcharge them.
The court in its judgment "found as a fact that the Respondent was been duly served with the Notice and Grounds of Appeal. It is not denied, or in contention that upon service on his secretariat, the Respondent failed to do the needful by filing the required documents within the stipulated fourteen days", the court held.
"The court would, in the circumstances rather caution and discharge the Respondent, and warn him to have as businesslike, serious and timeous an attitude to appeals and challenges to the decisions he makes as he would the surcharges and disallowances, as he cannot choose which part of the Rules he uses in carrying out his statutory duties to obey and which ones he would like to ignore, disregard and disrespect."
"One cannot aprobate and reprobate by in one breadth holding his own statutory institution in high esteem, while his actions (or inactions) would undermine the work of the Court, another institution of State", the court concluded.
---Daily Guide