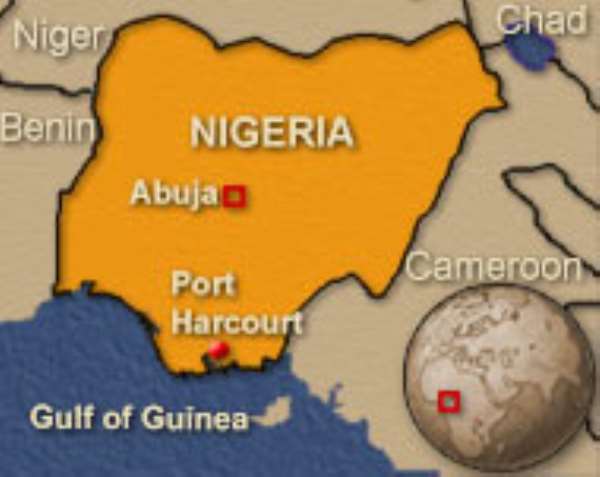 Six people have been kidnapped from an oil field in the south of Nigeria.
Five South Koreans and one Nigerian were taken from the site near Port Harcourt.
A coalition of Nigerian militant groups has claimed responsibility for the kidnappings and demanded the release of two jailed ethnic Ijaw leaders.
The Joint Revolutionary Council, which said it is made up of members of the Movement for the Emancipation of the Niger Delta and two splinter groups from another movement, said it had also sunk a naval gunboat and destroyed a drilling rig and a naval houseboat.
Three of the kidnapped South Koreans are from Daewoo Engineering and Construction, and the other two are from the state-invested Korea Gas Corporation, said South Korea's foreign ministry.
The men were abducted from the staff dormitory of Daewoo on a small island off Port Harcourt, on the coast of the western African country, an official at the South Korean embassy in Nigeria told a Korean television channel by phone.
Regional unrest
On Friday, a group of unidentified militants who were demanding jobs and money kidnapped eight foreign oil workers from an oil platform off Nigeria's southeastern coast. They were released on Sunday.
Unrest has been common in the oil-rich southern delta region of Nigeria for years, and in recent months armed militants have stepped up a campaign against the oil industry, blowing up oil pipelines and kidnapping foreign workers.
The kidnappings follow a visit to South Korea by Edmund Daukoru, Nigeria's oil minister, to promote investment in Nigeria's oil sector.
Daukoru, who is also president of the Organisation of Oil Exporting Countries (OPEC), said at a news conference in South Korea that Nigeria takes seriously a spate of kidnappings of foreign oil workers in the country.
"We condemn any form of hostage-taking as officials and we'll do everything possible to stop it," he said.