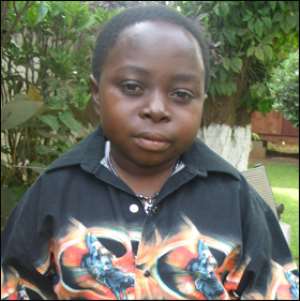 Joseph Pamfo
GHANA'S DIMINUTIVE actor, , nick-named Joe Shortingo, last week returned home from Switzerland where he had been attending a series of film festivals including this year's edition of Switzerland's acclaimed Locarno Film Festival.
Joe was invited to the Switzerland for the film festivals due to his role in an international movie titled, Baba's Song, which he shot with popular German film actress, Franka Potente, who is well noted for her role in the movie, Pirates of the Caribbean.
Baba's Song, written and directed by Swiss Director Wolfgang Panzer, was shot in Malawi. It is a story of two street children, with Sila Bakali as Baba and the Ghanaian actor as Joe, a refugee.
Baba, after the death of his parents refused to speak and was admitted into an orphanage, where he was later supposed to be sent to Europe as a foster child.
However he ran away and met Joe, 11, who was a refugee from Liberia. Together, they eke out a living on the streets through theft and street music.
One day, Baba is discovered by Ben Michael Mankhamba, one of the biggest music stars in the country, and this opens new perspectives for his future.
The movie was among numerous movies presented from around the world for the film festivals which were held from August 12 to I9 at Berne and Locarno, cities in Switzerland.
However the significant thing about all the festivals was that, the Ghanaian actor was the centre of attraction.
The media in the Switzerland was fascinated by his diminutive looks as well as the exceptional delivery of his role, which he told BEATWAVES yesterday, were very comic.
Joe Shortingo said he felt great for the attention given him at the festivals. "It was a great experience. A lot of people came from all over the world. Being at the festivals made me feel like a superstar because of the way I was treated and the publicity given me".
He said Swiss Newspapers, TV and Radio stations had interviewed and given him extensive space on their various networks.
He also said he had exchanged contact information with some producers who had shown interest in his acting prowess and were likely to need him in the not too distant future.
By Francis Addo