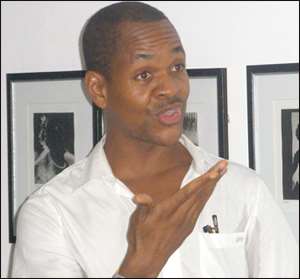 Lyle Ashton Harris As part of efforts to build a firm foundation for Ghana's Arts industry, Dei Center, a new center to exhibit contemporary arts collections, was last Sunday officially launched.
Located at No.7A Ninth Street Tesano, opposite the Tesano Police Station in Accra, the center, powered by Carleene Dei Foundation and New York University's Africa House, will support and promote the creation, study, exhibition and conservation of contemporary African arts, with a special emphasis on the visual arts of Ghana.
Through academic symposia, exhibitions and public lectures, the center is anticipated to make valuable contributions to the cultural life of artists, scholars and students in Ghana and beyond.
The launching ceremony attracted quite a number of dignitaries who have passion for the Arts industry. They were taken through collections at the center and the process of collecting contemporary Art. That was led by Gregory R. Miller, Managing Director, Greenhill & Co. and President, Gregory R. Miller & Co.
The occasion was also used in launching a book titled 'Blow Up' by Lyle Ashton Harris, an American who currently leaves in Accra. His book is a twenty-year retrospective monograph of work featuring recent photographs he made while living in Ghana. Contributors to the book include Ghana's own philosopher Kwame Anthony Appiah and artist/scholar Senam Okudzeto. Appiah discusses Harris's work in the context of a penetrating commentary regarding contemporary Ghana while Okudzeto offers an insightful conversation between herself and the artist. Lyle Ashton Harris was born in the Bronx and raised in New York City and Dar Es Salaam, Tanzania. He currently lives and works in New York City and Accra, Ghana. His work has been exhibited internationally, including at the Guggenheim Museum, the Whitney Museum of American Art, the Corcoran Gallery of Art, and many others.
By Francis Addo