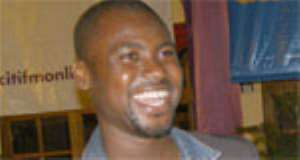 One of the most popular voices on the airwaves since the advent of private radio in Ghana is no doubt that of Gilbert Abeiku Aggrey, aka Abeiku Santana currently with Adom 106.3Fm.
He has carved a niche for himself to the extent that the mere mention of his name reminds one of Walt Baby Love and DJ Peanut Butter, both of the United States.
One thing Beatwaves gathered during a visit to Adom FM is that almost all the presenters and disc jockeys (DJs) had gone through formal training before being given the chance to host programmes and Abeiku Santana is no exception.
Many radio listeners see Abeiku with over 10 years experience in the radio industry, as a great radio presenter who knows how to put smiles on the faces of moody listeners.
The shouts? He shouts because his programme "Efie Kwanso" calls for it and apart from playing good music on the programme, he also livens up the spirits of listeners with motivational words and then spices it up with very clean and funny jokes.

Abeiku is one creative presenter who can spontaneously generate jokes funny enough to send a serious person reeling with laughter. He is a comedian in every sense of the word.
His 'Ofie Kwanso' on Adom Fm helps to uplift souls that are downhearted with inspirational messages and also helps listeners relax with a variety of good music after a long stressful day.
This 4-hour program comprises two sections mainly; a gospel section and a circular one. With inspirational messages, 'Aseda' (thanksgiving) and 'Kwanso Han' (light for our path) making up the gospel segment, 'Kyenkyenkuma' and 'Ewiase Aye Hu' (strange, funny happenings around the world) make up the circular segment.
"I have done stand up comedy in the past but my true love and passion is for outdoors, nature, and traveling. I have been told that I am a whirlwind of fun and can make people laugh. I like to collect many things including arts and photographs," Santana declared.
Abeiku disclosed that he started radio in 1997 from Vibe Fm when friends and colleagues encouraged him to go into presenting because he had a flair for emceeing.
"I share my success with great renowned broadcasters such as Mike Eghan, Uncle Charlie Sam, Tommy Annan Forson, Grandmaster Godwin Avenogbor, Wendy Williams in America and Richard Quest of CNN London among many experienced players in whom I drew some inspiration," he said.
He hinted that he had worked with Radio Z now Eastern Fm in Koforidua from 1997 to 1999. He then moved to Radio Mercury, Kumasi, from 1999-2001, as the assistant programmes manager.
He later joined the Sky Group of companies' owners of Ash Fm in Kumasi, as the late afternoon show host and also a sales and marketing supervisor.
After returning from Europe in 2002, Abeiku Santana joined the Multimedia Group Company Limited owners of Adom Fm where he has been working as the drive time host of 'Ofiekwanso' from 2.00pm to 6.00pm on weekdays.
Abeiku Santana is the head of music programmes at Adom Fm, a position that he really enjoys because of his passion for music that stimulates the brain and release stress.
Advertisement
Among many musicians who have shared their pride and joy with Abeiku on radio are Rita Marley, Kevin Lyttle, Wayne Wonder, Prince Midas, Hugh Masekela, Fredie Meiway, Kojo Antwi, Daddy Lumba, Amakye Dede, A.B. Crentsil, Pat Thomas, the Tagoe Sisters, Daughters of Glorious Jesus, Reggie Rockstone, Ofori Amponsah and Batman Samini.
His amusing, inspiring and educative late afternoon show has earned him a lot of laurels, honours, and awards including the Best Drive Time Presenter in the capital, awarded by RTV in 2003.
Santana has mastered ceremonies from the streets to markets, to theatres, concerts and many more.
In 2003, he hosted the Ghana Music Awards, UK and in 2004, the Ghana Music Awards, Ghana. In 2003, he again hosted the Miss Ghana New York, America.
Abeiku is a member of the National Legal Assistants Associations, USA, Ghana Journalists Association and Human Rights Action Group.
Abeiku is a product of Ghana Secondary School in Koforidua and Ghana National College in Cape Coast.
In 2003 he obtained an Advance Certificate in Public Relations/Advertising and Marketing from the Ghana Institute of Journalism (GIJ).
He proceeded to New York Paralegal School in New York from 2004 to 2005 where he studied Litigation and Legal Studies and obtained an associate degree.
When he returned to Ghana after a year, Santana continued his education at the Ghana Institute of Management and Public Administration (GIMPA) in 2006 where he obtained second class upper postgraduate certificate in Public Administration
He said his greatest ambition in life is to become a lawyer. "As I always say life is all about doing it right and getting it right".
He is experienced in the field of broadcasting and he has been very consistent with his style of presentation; and that is a remarkable feat. He has proved that his style is unique and he has a good personality that matches that style.
He is married with four children namely James Benjamin, Princess Kesewaah, Nana Egyiriba and Aba Benyiwah.
"My favorite dish, jollof rice, is good for me on weekdays except on weekends when I enjoy eating 'fufu'.
By George Clifford Owusu