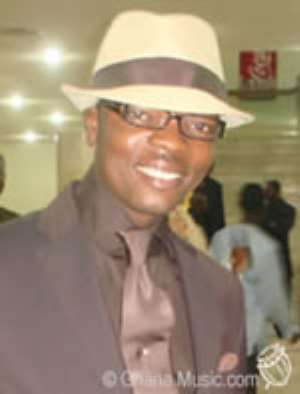 Born in Winneba in the Central Region, Kofi Okyere Darko had a thing for being in the spotlight, and it showed in his dress sense and sometimes outrageous fashion statements.

But that's what got him around and growing in the entertainment circles. KOD is what most people call him, and for what it's worth he is really living it up for a young Ghanaian at 30.

The living room decor isn't anything you can connect to Kofi's persona, save for the Bob Marley posters.

He still has vivid memories of his childhood and he recalls his parents not being worried at all over his passion for entertainment.
Mr. James Aidoo, his father (a former director of the Ghana Prisons) and Mrs. Margaret Aidoo an educationist and one of the founding members of the 31st December Women's Movement, he says, were never imposing "as long as you were doing the right thing".
And being related to urban legends like KKD (Kwesi Kyei Darkwah) and Yaw Addo Darkwah made it easier to slip through the cracks.
Although he first spoke on radio at age five his serious radio career started after completing his 'A' Levels.
KOD has been on radio for ten straight years and hobnobbed with almost every bigwig that went through Radio Gold and done almost every program from 'African Safari', lunch time programs, plus the evening drives.
He is now doing the station's morning show and reaching out to thousands from his comfort zone behind the mic and not taking sides even when issues get politically incorrect.
Kofi admits he has spent a long time at Radio Gold -- considering that some of those he started out with (such as Kwame Sefa Kayi and Fiifi Banson) have moved on.
But the man thinks moving to some place else will stall too many things he has been running.
Then he has to worry about becoming a civil servant because Radio Gold gives him flexibility he can't find anywhere else. He does admit however, that other networks have tried to poach him but he has no intentions of jumping ship. Joy FM, Hitz FM and Peace FM were some of the names he dropped.
KOD is now more of a talent manager than ever arid in the last few years he's overseen the careers of acts like Daasebre Gyamena, Ofori Amponsah, Nana Quame, Praye, Wutah, Tinny, 4x4 and others.
KOD says he will be getting married in December but he still does not know which year it will be. "Marriage is important and I wouldn't want to come out of it when I get into it," he says. "So I'm taking my time."
Although he doesn't speak much about his rumored romance and supposed break up with Tucci Goka he admits that they are good friends.
KOD has future ambitions of being a member of parliament but in the meantime he plans to do some upgrading to tune up for that spot.
"The last ten years have been wonderful and I have come across incredible personalities who have now become very good friends of mine," he says gladly.
He hopes for a day where musicians will be properly recognized and supported in the country because arts and entertainment are part of Africa "because you cannot celebrate the continent without those in the arts."