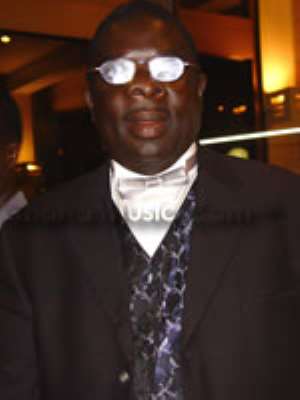 One of Ghana's greatest gospel music icons Bishop Michael Osei Bonsu is presently unsure how long he has to live to complete his musical ambition and to fulfil his ministerial calling as an ordained Bishop. Shock strikes everywhere this news reaches.

"My son I'm very sick. I'm dying, I can't do anything. Only my God can get me out of this situation," these were the words of Bishop Michael Osei Bonsu to Eugene Osafo-Nkansah, SHOWGHANA.COM reporter.

According to Bishop Osei Bonsu, he had an agreement with Pastor Love Hammond to write seven songs for him for an amount of fifty million cedis.
Pastor Love took the album's master copy from the studio and proposed an amount of seventy million cedis for the seven songs he wrote, instead of the initial fifty million cedis agreed.
Several weeks thereafter, Bishop approached Pastor Love that since they both needed the money he should release the master copy so he (Bishop) can look for a deal to pay him the amount he asked for, which Pastor Love agreed to on condition that they sign a contract to that effect. Finally an agreement was signed between both parties at Channel 'R', an Accra-based Christian radio station.
Bishop landed a one hundred and twenty million cedi deal with Seiwus Ventures, a figure that fell far below his expectation. A week after Bishop informed Pastor Love of the deal, the latter went to Bishop's office on the Spintex road to threaten him. "I will kill you to serve as evidence of your greed. You don't know whom you are playing with.
I don't fear or respect anybody on this earth," these were the words of Pastor Love according to Bishop Michael Osei Bonsu. Subsequent to the threat, Bishop called Pastor Love to his office and paid twenty million cedis as part payment. Seiwus Ventures also gave Pastor Love twenty million cedis, a claim confirmed by Pastor Love himself.
About the death threat he has been accused of, Pastor Love Hammond said the only thing he remember telling Bishop is that he can't sing again because he doesn't treat all his song writers well, nobody will write songs for him to sing again.
Concluding his short interview with us, Pastor Hammond said he never threatened to kill the bishop that he's already sick and if indeed he was a real bishop how should such a threat affect him. Meanwhile, Bishop Michael Osei Bonsu is in critical condition at home and going through serious prayers and fasting, as it seems to be the only remedy.
He's seen the Doctor but no useful result has come out of drugs prescribed. Bishop has been bed-ridden for close to three months. Keep reading for more on this developing story.
Source:: Eugene Osarfo-Nkansah, showghana.com