Elephant Man Missing At Pulse Concert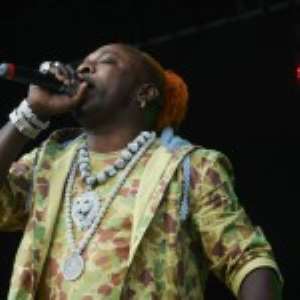 Jamaican dancehall artiste, Elephant Man, failed to show up at Friday's MTN Pulse Concert at the Accra Sports Stadium as promised by organisers, Fantasy Entertainment.
That was the second time he failed to show up at a concert in Ghana.
Organisers are, however, yet to give explanation to why the musician, who is otherwise called 'Energy God', was not in Ghana for the concert. But, grapevine information had it that it had do with travelling documents.
His absence, however, didn't take away from the show as performances by Ghana's Shatta Wale, Stonebwoy, Samini, Kaaki, Mzvee, Jupitar, Episode and a host of others, including other Jamaican artistes— Kranium and Alkaline— gave dancehall audiences what they wanted.
The show was generally successful, but, also had its shortfalls with time and accessibility to the stadium. It took driving patrons a hell of time to enter the stadium as a result of what is believed to be poor measures in handling traffic situation at the main gate. The show also closed very late.
The crowd was very huge, and it was almost as if majority of the fans came for Shatta Wale; as chants of Shatta's SM mantra were heard echoing everywhere at the stadium.
As of the time NEWS-ONE had access to the show about 11:00pm, MzVee was performing. After her came Jupiter, who also wowed the crowd. Kaaki followed and before she left the stage, she threw some jabs in the air, calling herself the "only dancehall queen" in Ghana.
Indeed, if that was targeted at MzVee, then the Lynx Entertainment's artiste may have to find another platform to reply since she had earlier performed before Kaaki.
The Bhim Nation crooner was next on stage and he was marvelous. During his performance, he assured music fans about hopes for him to walk "normal" again, years after he was unable to walk properly as a result of a car accident.
.
According to him, "I have finished with my surgery and now I am doing physiotherapy. In the next three months I will walk normal. You noticed for the past weeks I wasn't in Ghana. I went to Germany to do my leg…I want to show them that I can do it but I love the way I leave and I love the people I inspire. You see this my knee, previously it doesn't bend but now you see it is bending. I have finished with the surgery and now I am doing physiotherapy, in the next three months I will walk normal."
Before he signed out, he introduced Kranium and together they did a short performance. Kranium proved he is a great performer as he increased the tempo of the show long before he performed his only popular song titled 'Nobody Has To Know', which everyone was waiting for. He got the crowd screaming even more when he brought some ladies from the crowd to join him on stage to dance.
Samini performed live band and he climaxed his performance with Shatta Wale's 'Kakai' hit song to signal they have ended their rivalry.
Shatta Wale was the artiste majority of the patrons were waiting to see on stage, and he came out to give a massive performance.
He delivered back-to-back some of his hit songs without slowing the crowd's interest. Prior to going off stage, he pleaded with the fans to wait for Alkaline to climax the event at the wee hours of Saturday morning.
Alkaline had earlier on reportedly said he doesn't know any dancehall musician in Ghana; a comment which has outraged some Ghanaian dancehall fans.
The MTN Pulse Turn Up Concert was organised by Fantasy Entertainment and supported by Turkish Airlines, Midland Savings & Loans, South African Airlines, Hitz FM (Multimedia Group), TV3, 4Syte TV and ToonToom. Actress Lydia Forson was one of the emcees on stage.
By Francis Addo (Twitter: @fdee50   Email: [email protected] )