Winner of maiden edition of hottest DJ receives prize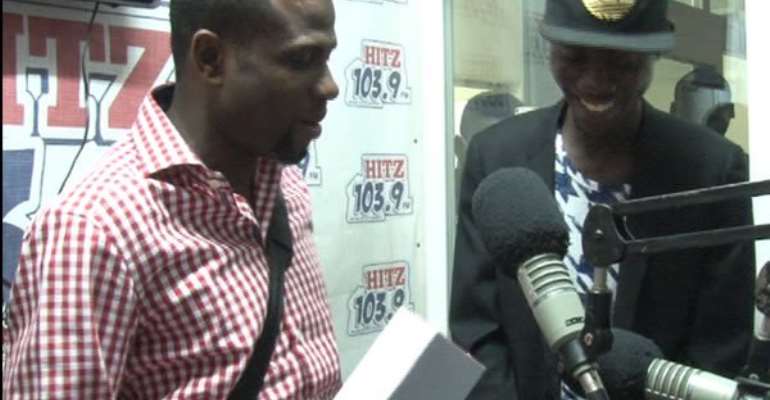 Fredrick Dey also known DJ Massive has received his DJ set and a tablet prize as winner of the 'Hottest DJ' reality show.
Mark Okraku-Mantey, Programs Coordinator for Hitz Fm presented a brand new beats by Dre head set, a tablet from Franko Trading Enterprise and a DJ set up to DJ Massive on the 'Cruise Control' on Thursday January 7 2016 with DJ Mercury Quaye.
DJ Massive was declared winner of the maiden edition of Hitz FM's Hottest DJ reality show at the 'Turn up Party' at the Junction Mall at Nungua barrier on the eve Christmas.
Presenting the awards, Mark advised him to improve upon his skills and also learn more.
"It is not easy, you guys have done very well, you gave us a good show, you gave us a party, It's not easy to lead but you need to maintain the number one position by learning further and then playing better", Mark said.
Hitz FM has an arrangement to help DJ Massive to continue improving upon his skills."DJ Massive will have a slot so that he can also use to build his brand", Mark revealed.
First and second runner-ups DJ MJ and DJ Raennie took home a tablet and a beats by Dre head set each.
"It felt great to play with Hitz, I love the family, I love every bit about Hitz Fm and placing third had made me learn more" Dj Raennie said.
Excited DJ Mj, also said, "I feel very excited because it's not been easy looking back how I started, and how things were, I never thought I could come this far. To fight with men is not easy".
On his part, DJ Massive say's he is looking forward to facing any obstacle to make it to very top.
"I'm really looking at coming out big. They are saying now that I am Hitz Fm Hottest DJ and they are coming at me very hard and need to show them, I'm ready to face them".