Promoting Ghanaian Values And Culture Through Movies
...Messiah Entertainment Set To Premiere 'Six Feet Of Space'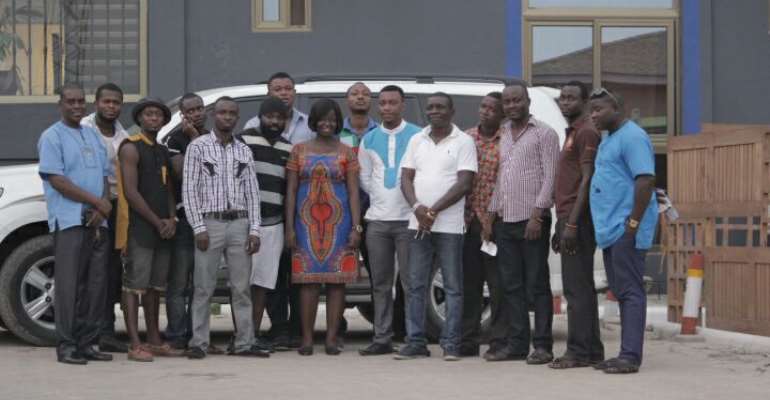 Promoting Ghanaian Values And Culture Through Movies...
MESSIAH ENTERTAINMENT SET TO PREMIERE 'SIX FEET OF SPACE'
By Samuel Ansah Boateng
As part of moves to recapture true Ghanaian culture to other parts of the world, Movie Production giant, Messiah Entertainment, in partnership with Black Theatre Productions is bracing up to release a real Ghanaian culture induced movie; which captures a period of film set in the 70's , dubbed 'Six Feet Of Space'.
In 1970, the world was stunned by the decree ordering all non-Ghanaians without Residence Permits to leave the country. It was received with mixed-feelings. Much as the exercise was primarily understood to be the only stern measure to rescue the country's ailing economy from strangulation and alien domination, many, on grounds of fellow-feeling abhorred the way it was carried out whilst those who hailed it did so on various grounds, some personal, some patriotic.
Those who condemned it did so for humanitarian reasons, though some saw in it a glowing opportunity to rain scathing criticism against the government in power.
Six Feet of Space, though a true assessment of the aliens' situation, is the writer's imaginative insight into how this social phenomenon affected a family in particular, and alien families in general, within the context of the aliens' expulsion. It starred Baba Olunde, a Nigerian national, had been living in Ghana for over forty years, having settled there with his parents 'when yet a boy'.
All traces and reminiscences of home had been forgotten in the oblivion of long years. He had worked his way to wealth, and had a Ghanaian wife with three children. He woke up one day as all days to face the hard-to-believe realities of life.
How is he to solve the myriad of problems that immediately emanating from the aliens' expulsion order? Six feet of Space is a story that seeks to address the effects of artificial boundaries set by man to push his fellow man out of the way, whilst in the end we are all entitled to only six feet of space.
According to the Founder and Chief Executive Officer (CEO) of Messiah Entertainment, Benjamin Dwomoh -Doyen, the movie, which would be premiered somewhere in March would tell the story of Ghana's rich Cultural Heritage, "just like Hollywood sells America to the other parts of the world".
"We can let our movies speak for our country, we must let our films tell our story and sell our rich culture and heritage, but the film industry in Ghana is not producing any content that can compete with those from around the world; it is in this light that Messiah entertainment is partnering with the right stakeholders who can help to change the terrain of content production in Ghana.
The yet- to- be premiered movie, written by Mr. Dwomoh Doyen, and based on a stage play by Duwonu Normanyo (of blessed memory), is also in partnership with the NUGS-UCC Chapter, Theater and Films Studies at the University of Ghana, Ghana Museums and Monuments Board, and a host of other stakeholders who can transform the Ghanaian Film Industry, the New Crusading GUIDE gathered.
The CEO, was an associate producer in a onetime mind blowing Movie, 'THE PLEDGE, and a co-producer in 'Never Say Never', featuring Dance Hall Artist, Shata Wale, amongst others.
After the premiering, it will be the first time the University Of Cape Coast has partnered a private movie industry, despite the University's track records in theatre Arts.
The University's Head Of Department (HOD) ; of Theatre and Film Studies , Vitus Nanbigne (PHD) believes it was a laudable idea to partner with the Messiah Entertainment , particularly in their quest to promote Ghanaian values in movie productions.
"Apart from the very classic films that we have had, that have attained national and international status, like kukurantumi road to Accra, Heritage Africa, in recent times we have not had any films that have spoken about the nation and made us proud as Ghanaians, so it is inspiring to be part of this particular project that speaks about Ghana. As a people and as a nation we need to be able to tell our stories… if you don't tell your own stories don't expect others to come and tell it the way it should be told…and we as a university are very proud to be part of this", he affirmed.
On the part of Michael Chris Tetteh, UCC's NUGS president, partnering with Messiah Entertainment was a dream come true, particularly when it was going to provide students with jobs on part time.
"During our manifestos, we promised students an opportunity for miniature jobs , and looking at the microscopically nature of UCC we realized that we cannot give permanent jobs to students, so Messiah Entertainment coming on board is really going to help students not just to exhibit their talents, but get employed and be paid as well", Mr. Tetteh added.