Hiplife Artists Are Not Competent To Manage MUSIGA --Ambolley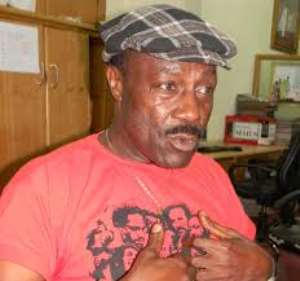 Outspoken Highlife Musician and Presidential Aspirant of Musician Union of Ghana (MUSIGA) Gyedu Blay Ambolley has said the umbrella body of musicians in Ghana MUSIGA cannot be control by hiplife artists.
According to him, the hiplife artists are not competent enough to control and direct the affairs of the musician body. ''Look at the current state of our mother body; because Yooyo's are controlling it's, everything has been messed up''
Mr. Ambolley who is optimistic of wining the upcoming delegates' congress of the Musician Union of Ghana descended heavily on the hip life artists describing them as ''Yooyos'' which in means naggers.
Speaking in an interview with Ashh fm Entertainment Zone, Gyedu Blay Ambolley called on members of the musician body who are of good standing not to vote for any hiplife artist who is ignorant about the value of the musiga and its origin.
He added that, musicians who have the union at heart should not vote for substandard person who doesn't have the administrative knowledge in putting proper structures in place.
When asked by the host of the show Nana Amoako about his thought on the decision taken up by the MUISGA election committee not allocate fund for the media coverage, Gyedu Blay Ambolley took a swipe against the decision taken up by the committee describing it as a mafia tactics to rig the election in favor of their favorite candidates.
The delegates' congress is schedule to come off in Koforidua from October 29- 31.
In the presidential race, Appiah Dankwa, aka Appietus and Gyedu Blay-Ambolley have both filed their nominations to contest the incumbent Bice Osei Kuffour, aka Obour.
For the 1st and 2nd vice presidency and treasurer, Bessa Simons, Rev Thomas Yawson and Samuel Kofi Agyemang are unopposed, while for the general secretary, Deborah Freeman the incumbent, is also unopposed.
For the national welfare officer, Pastor Kwesi Duah, Benedict Kolan and Sylvia Amponsah Bosompem are the contestants and Ras Caleb Appiah-Levi is contesting the incumbent Chizzy Wailer for the national organizer position.