RnM introduce new member on the set of their new video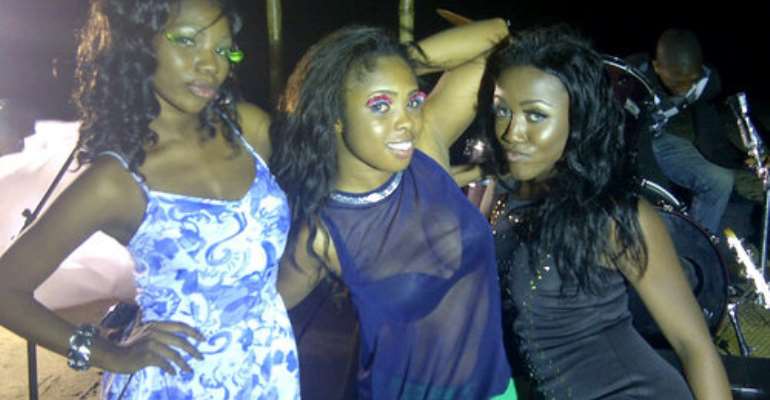 Just when you thought it couldn't get any better, RnM ups their game by introducing a new member. The 4syte Video Music Awards nominee group introduced their new member, January on the set of their new video.
Over the past few months, there have been a lot of speculations about a new member joining the group but neither the girls, nor their label, iBack Entertainment would confirm this. Natasha from RnM stated that 'We've actually been working with January for about 6 months and she even sang a lot of backing on our last single, Simple Luv'. 'We love what we do and do see another hard working sister who enjoys the craft, we couldn't help but start working with her' she added. 'I've done about 17 songs with the girls for the album and we can't wait for you to hear them. From the outside, you don't realise how many hours these girls put in for their work' added January also from RnM.
Fresh of their nomination for two (2) 4syte Video Music Awards, RnM has gotten back to work. The nominations which were for 'Best Female' and 'Best Group' are a huge boost for the group. Stephanie from RnM stated 'Everyone watches 4syteTV, last year we were at the awards show, and this year we've been nominated twice? This is crazy and we're more than grateful'.
The group recently finished filming scenes for a song called Fresh boy. It's not clear if this will be their next single as fans are aware that they also recently shot a video featuring Ghana rapper Trigmatic. The girls are also in rehearsal at the moment as they prepare for a high school tour ahead of their album release.
Fans of RnM can follow them on twitter @RnMOfficial and facebook.