I'M IN LOVE WITH BOMAYE – Promises a Grand Showdown on 19th August 2012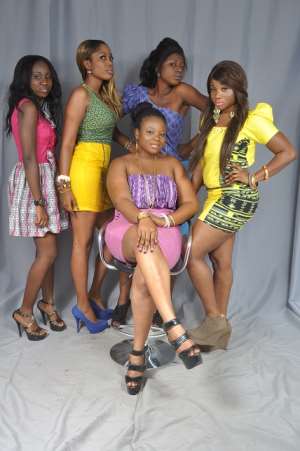 This is not the usual way the son of a diplomat who is well educated and well travelled selects a wife. In fact many will think this is totally against the rules of diplomatic families who are known to be very conservative. But there is always that one person who by nature is a rule breaker. Bomaye is one of such as he has decided to find a wife by assembling twelve beautiful women in one house and have the public eliminate them one after the other. This has generated some excitement across West Africa.
The grand finale for the "I'm in love with Bomaye" show is now just a couple of days away and the excitement is heightening almost alarmingly. We have seen all the strengths and the flaws and we have made all the assessment and evictions almost every week. And now at the Mensvic Grande Hotel in East Legon this Sunday, the King is going to choose from the final four maidens left in the house.
The 'last standing four' include secretive and strategic Chichi, young pretty and exciting but lazy Promzy who clearly is a favorite of the King. Then there is hardworking, competitive and aggressive Princy who the king has described as deserving to win the show and then there is pretty, hardworking mum; Favour who is not so intellectual but passionate and loving. All have been described by the king as good candidates for the role but it will take more than his making a final choice.
He also has the voting public to deal with and in the event of a clash in votes; his heart is likely to beat twice the normal rate as he sits a watch the public determine his future.
It is certainly one day that no one especially the king will forget in his life. The event itself will be befittingly grand as there will be the cream of Ghana's music stars performing at the Mensvic Grand hotel. Supported by the ministry of communication and the national commission on culture, the event will crown the groundbreaking reality show that promises to set the tone for reality shows in the future. Performing are Cee, Ampong & Isaac, The FOKN Boys, Jon Germain, Akosua Agyapong, Bradez and many more.
The program is a collaboration between Access Media Productions and Cine Afrik on MultiTV.