'Cultural Days In May' Opens On May 6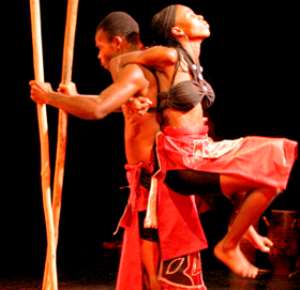 Noyam Dancers
The 2012 edition of 'Cultural Days in May' will open on Sunday, May 6 with a performance by the sensational Wind Afrique Band at Jerusalem Spot, New Achimota – a suburb of Accra.
Led by Joseph Darko, the band is expected to thrill fans with a variety of Afro fusion tunes during the free concert. The group will showcase new creations as well as skills acquired during a recent tour of The Netherlands.
Other free performances marking 'Cultural Days In May' include book readings by Prof Ama Ata Aidoo at Pajohn's (Friday May 11) and traditional music/dance by three groups at Krobo Bukom Square in Teshie (Sunday May 13).
The rest are Burger Highlife workshop/concert by Zapp Mallet and Friends at the Goethe-Institut (Friday May 18), traditional/contemporary music at Jaynii Beach, James Town (Friday May 25) and contemporary dance at the Noyam African Dance Institute, Dodowa (Saturday May 26).
A forty-four-page catalogue freely advertising most of the cultural and arts events in Accra has been published to enable residents, tourists and visitors get accurate information on concerts, performances and related events throughout the city.
In 2011, Arterial Network Ghana, Institute for Music & Development /Accra Arts and Culture Network, with support from the Goethe-Institut and the Arterial Network Secretariat in South Africa initiated 'Cultural Days in May'.
It is an initiative of the African creative cities / cultural capital project supported by the mayor of Accra and other African mayors.  Consequently, 'Cultural Days in May' is one of the activities that have been undertaken in collaboration with the Accra Metropolitan Authority and other stakeholders in the quest to turn Accra into a creative/cultural city.
'Cultural Days in May' 2012, which will be preceded by the Afro Jazz Week and the International Jazz Day, is being supported by the Goethe-Institut. It is being organized by Arterial Network Ghana, Institute for Music & Development and Accra Arts and Culture Network.
By George Clifford Owusu