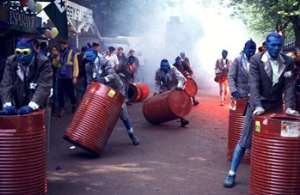 14th of April in Jamestown – From 10 am to 11 pm
For the second year, the Institut français du Ghana is supporting the Chale Wote Street Art Festival, a young but very energetic Festival that gathers a lot of artists and organisations active in street art visual arts, performances, fashion but also acrobats, musicians and DJs, and all types of urban interventionists in Jamestown community.
The French company Generik Vapeur has been invited for a cooperation project in Accra around the show labelled 'Bivouac-Ghana'. This amazing international renowned street performance has been prepared in close coordination with the Chale Wote organisers, with a strong support of Alliance française d'Accra, and relying on the participation of participants from the neighbourhood community.
On the 14th of April, towards the end of the afternoon, the 'Blue Men' of Bivouac are going to invade the streets of Jamestown, with their barrels parade, truck and music!
This ambitious programme comes as the fruitful result of a build up in time with a reflexion led with cultural operators on urban interventions linked to the cultural development of the City of Accra. Mantse and Ama, two key organisers of the Chale Wote team, were recently sent to France at the Cité des Arts de la rue, a cultural facility in Marseilles devoted to street art performances companies where the construction of this show "Bivouac Ghana" started.
Contact : Valérie LESBROS, Cultural Affairs Attachée
Tél (233-302) 21 45 74 / +233 244 31 64 96
[email protected]