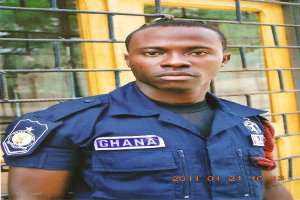 An Akosombo based police officer Eric Kofi Boakye Yiadom otherwise known as 'Dova' has dropped a mind-blowing highlife single 'Obia se eye'.
Kofi Boakye's obia se eye track which is already enjoying air plays in most radio station in the capital ruminates on pure Ghanaian love. The Akosombo based police officer has utilized the extraordinary sweetness of his voice to get away with plenty of lines that would sound irredeemable sleazy coming from other singers in the industry.
With less than a week air time played some experts of music have already thumbed the song 'Obia se eye' to racket Kofi Boakye to instant stardom especially his appealing androgynous vocals which catches even the smallest bird singing.
As a debutant in the industry, Kofi Boakye did not feature any known artists saying that he want to prove a point but information from a tight-lipped source has it that Kofi Boakye is flirting with Jam Master J ( J M & J) and may feature either Stone Buoy or Khaki on his yet-to-be released album in early next year.
Speaking to www.pinkfmonlinegh.com, Kofi Boakye expressed how challenging it has been for him combining music and policing, "It been very challenging combining the two together but I know with hard work and determination no mountain is too high to surmount. I'm currently partially being managed by soundbuk entertainment headed by my own brother Amisty but we are hoping that I'll be signed onto a big management house soon".
"I'm still in the studio working on the album which we are planning to release somewhere early 2012 so observers should watch out for Eric Kofi Boakye Yiadom but I'd like to keep the title secret".
By: El-Amisty Nobo