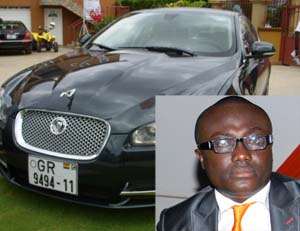 Celebrity presenter Bola Ray has refreshed his celebrity status with the release of Jaguar XF Supercharge, one of the latest models of Jaguar.
Currently, it is rated one of the best cars on earth. The XF Supercharged blends the seamless power of a 470 hp supercharged 5.0 Liter V8 engine with a premium specification and one of Jaguar's most luxurious and most exquisitely crafted interiors.
Its prize on Jaguar's official website rates at $67,600. However, Bola reportedly bought his at a cost of $80,000. The car reportedly arrived in the Joy Fm presenter's plush garage at his Dansoman residence early this year and he has since been spotted cruising in town with it.
Its arrival, according to sources, generated a lot of gossips among Bola's pals on twitter.
Currently, he is the only Ghanaian presenter driving Jaguar XF Supercharge.
Reports say he has other fleets including his Chrysler 300, with a customized Emperor 1-10 number plate. The black XF Supercharge undoubtedly suits his status.
Bola is one of Ghana's celebrated showbiz icons. He is the CEO of Empire Entertainment, the powerhouse behind a number of local artistes and Nigerian top musicians. The company is noted for organizing big social and musical events including pool parties.
Its upcoming event on July 1 at the Dome of the Accra International Conference Centre is Ghana Meets Naija concert. This is anticipated to parade a number of Ghanaian and Nigerian top musicians on stage. Among them will be J Martins, 2face, 9ice and Wande Cole. From Ghana will be Sarkodie, VIP, R2bees, Dr. Cryme, 4×4 and more.
Bola, born, Kwabena Anokye Adisi, holds a Bachelor of Science Degree from the Central University. He has two certificates, each from the University of Ghana and Central University. He was the first African and Ghanaian to host 'Top of the Pops' on BBC Radio.
Bola Ray joined Top Radio after Radio Universe, where he did his national service and subsequently hosted 'Top City Jam.'
At the same time, he was still a student at the University of Ghana. In 2003, Bola Ray left Top Radio for Joy Fm, and he is still making an impact there.
Bola is married to Dorcas, a professional banker and together they have a boy.