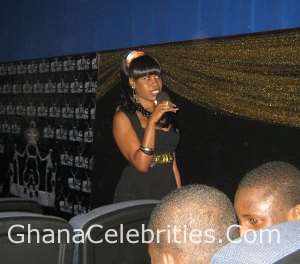 The world will not be a journey if one does not lose for the other to gain. Those of you who do not know Jeremie, she is the chick we bashed some months back for her constant use of vulgar language on radio. She is  currently a presenter at Y Fm in Accra.
According to Peace Fm, the vulgar language chick has dumped her known boyfriend and work mate "Jay Foley"  for a proper upcoming celeb " Senanu Gbedawo" of ""CheckMate"  fame. Let's see how long this will last if what is reported is really true.
It is difficult to comprehend why some women are so addicted to fame (I mean famous men) when the package these men come with  is mostly unbearable.
Few months again, Jeremie said on TV that she was ready to marry Jay Foley (the dumped lover boy). It is amazing how ready to marry has suddenly turned into "it is over".  
In few months, I guess we will hear  " I will marry Senanu". Is it that some Ghanaian female celebs ( celebs used loosely here)  are just confused as to which man to stay with or they are fully borrowing the foreign celebs lifestyle of hopping from one bed to another.
Read below for more…..
……………………………………………………………………………………………..
Reliable information available to peacefmonline.com indicates that Television and radio star Jeremie of 4Syte TV fame, has ended her 'romantic' relationship with her co-4Syte TV host boyfriend Jay Foley of '2131' fame.
According to the information, Jeremie has already gotten over the breakup and has opened a new page in her career with an upcoming actor, Senanu Gbedawo, who had his first major lead role as a customs officer known as 'Kwame Asante', in Shirley Frimpong Manso's movie 'Check Mate'.
Though the reasons for the 4Syte TV couple's split is not too clear, there are vivid indications that Jeremie got fed-
Jay Foley and Jeremie at the launch of Big Brother Africa 'All Stars' event at the African Regent Hotel.
up and felt hopeless after trying so hard to make things work between them. Sources say Jeremie went all out to tell the whole world about her relationship with Jay, admitting on several platforms that she is indeed dating her co-host, but Jay Foley on the other hand, refused to admit publicly ever dating Jeremie.
A few months ago, Jay Foley stated on e-TV Ghana's 'Late Night Celebrity Show', that "Jeremie and I are not going out but we are just very very good friends', after the host Dzifa Smith asked him several times if he was dating Jeremie.
Prior to that Jeremie had confirmed their relationship on the same program, saying she was ready to marry Jay Foley anytime he proposed to her.
The two have been spotted together, at celebrity events and at Jay Foley's T.R.A.P. (The Radio Advertising People) studio, sitting and laughing like lovebirds and at the launch of Big Brother Africa All Stars at the African Regent Hotel on July 18, among others. The last time they were spotted together publicly, was the4Syte TV Ghana Music Video Awards launch, at Citizen Kofi on October 9, 2010.
Aside their work with 4Syte as presenters, they are both presenters on Y-FM 109.7. Jay Foley is the producer of a pre-produced program '2131-JAMMING-HIPHOP-SHOW' presented by Blackboy on Fridays, from 6pm - 7pm, which also streams 'live' on ghanamusic.com. He also presents 'Party Pressure' every Saturday evening between 8pm and midnight.
He is the leader of a Youth network moment '2131' (Lead, Challenge or simply forget it) where young men and women come together to have fun, keep the HipHop culture alive, and raise money for some social responsibilities. He also runs a recording studio 'T.R.A.P' where songs and mostly commercial jingles and voice overs are recorded.
Jeremie presents an interactive programme – the 'Y-Lounge' from Mondays through Thursday from 7pm-10pm and a Saturday morning programme from 9am- 12noon. She also has her silky voice on countless radio and Television commercials currently on the airwaves.
Source: PeaceFm