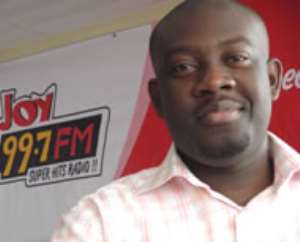 Super Morning Show host Kojo Oppong-Nkrumah

Ghana's most popular radio programme, the Super Morning Show embarks on what producers call a Total Recall, a real time radio campaign to revisit pressing issues that have either been swept under the carpet or thrown into the litter bin.
The special series will be a monthly feature on Ghana's biggest breakfast show, host Kojo Oppong-Nkrumah has said.
Mr Oppong-Nkrumah believes there is a plethora of issues, across the political and business spectrums that the media has turned a blind eye to, usually after briefly touching on them.
SMS will therefore provide listeners with updates on the stories that are thought to be dead, closed and concluded.
The popular Muntaka superfluous spending saga will be discussed while ex gratia payments to ex-government officials including former Speaker of Parliament Ebenezer Sekyi-Hughes will be given a big mention.
SMS will also interrogate the security officials on the whereabouts of some military officers who allegedly killed a young American tourist in cold blood near Cape Coast.
Total Recall on the Super Morning Show was first experimented in 2007.
It returns, this time with more energy and fervour, "because we want to hold leadership accountable to their own promises."
The production team remains unchanged and will be led by Emmanuel Kofi Ansah with support from Sedem Ofori and Ransford Amon Pabi. The team promises to be the more stronger with the contribution of Ewurabena Ewool and Benjamin Adu-Boahene.
The Super Morning Show has created a niche for itself as the country's best morning show, sweeping several awards over the years.
The show in 2009 won the 2008 Charted Institute of Marketing (CIMG) and the Ghana Journalists Association (GJA) Awards for its unique and interactive nature.
Tune in to Joy 99.7 FM from tomorrow November 5, 2009 to listen to Total Recall.
Story by Fiifi Koomson/Myjoyonline