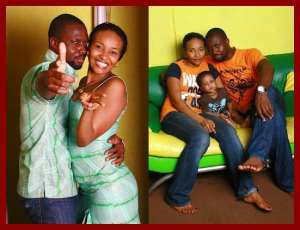 Doris Simeon, is not a native speaker of the Yoruba language, but she is a delight of the teeming fans of the Yoruba movie industry. She was born into a polygamous family in Benin, Edo State and living her childhood dream of being in the entertainment industry. According to the beautiful actress, if she were not acting, she would have been working as a presenter. Today, she is a successful actress in the Yoruba film industry. In this interview with Ajibade Alabi, she reveals what prompted her to choose acting above any other choice of career, the challenges of acting and other important issues. Excerpts.
What would you say distinguishes you from your other colleagues?
A Yoruba adage says "Igberaga ni igbera sanle" (pride goes before a fall). I do not blow my own trumpet; I allow people do that for me.
Okay what do you think makes you easily noticeable to the opposite sex?
My complexion.
You don't mean it. Not even your face or your figure?
No, not my face or my fingure; it is my skin colour. You know I am an albino and so I get easily noticed because of my complexion. There is no way an albino would not be easily noticed amidst a crowd, thanks to my colour for that.
Can you tell us the real situation of things in your marriage?
On that issue, I am sorry I have no comments.
Don't you think it's time you let people know what is happening in your marriage?
I said no comments.
So that means people can say whatever they like?
No comments.
No comments now or later?
I reserve my comment.
Now let's come back to your acting career, which role amongst the many you've played was most challenging?
Well, every movie comes with its own challenges; but I would say two movies were particularly tasking for me. One is modupe temi, which I did with Saidi Balogun and the other one, is Omo Iya Kan. Modupe Temi, a two cast movie, which is a very recent development in the industry was challenging because I do not have intervals in between lines.
It was a bit difficult for me but it was very interesting, I enjoyed it. Challenges help you to learn more and improve on your skills.
And then Omo Iya Kan was challenging because I played two roles in that movie despite the fact that I just had a baby and was producing a movie at that time. I also lost my father around that period. All these things put together mounted too much pressure on me.
Any regrets being an actress?
No, not at all
If you were not acting, what would you have been doing?
Maybe, working as a presenter which I just started. I had a TV show recently called Faji Extra. I just finished shooting another one, which I hosted.
Tell us more about the show?
The show is a personality talk show; where you get to interview top personalities and celebrities from all walks of life. We dance and talk about their lives generally. It is a very interesting show.
Has love been fair to you?
I see you are still going back to that marriage issue?
No, no, I am just asking a general question?
I thank God, God is love.
Who is Doris Simeon?
Doris is a young woman, the second child of a polygamous family of five, and a native of Benin in Edo State, but was born and bred in the city of Lagos.
I had my secondary school education at Maryland Comprehensive Secondary School and my tertiary education at PEFTI, Wale Adenuga's Production Training School.