EXCLUSIVE: Holland stood still for Nollywood Director Tony-Holland!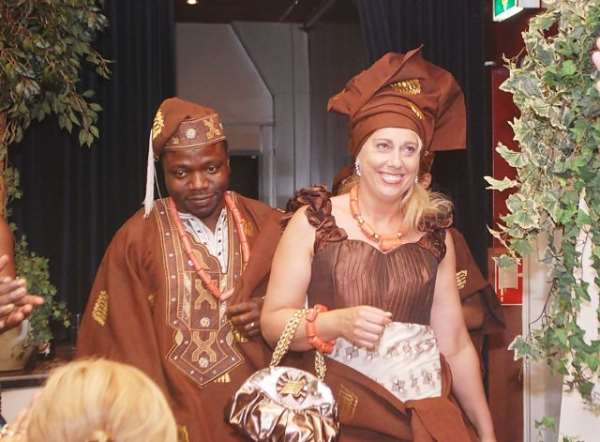 After 17yrs together and two kids, Tony-Holland as he is fondly called by his peers in Nollywood marries his long time girlfriend Maaike. Tony whose complete names are, Anthony Bamidele Akinyemi, became the first Nigerian to shoot a complete movie in Europe when he directed the movie UNDER PRESSURE (1998) which became a hit amongst Africans in the Diaspora.
The following year (1999) together with his friend and partner (Leonard Ajayi-Odekhiran) he launched his most ambitious project when he brought top Nollywood Actors Liz Benson and Saint Obi to Holland and shot the breakthrough movie "DAPO JUNIOR" which is still one of the biggest selling Nollywood movies of all time.
Tony has directed other movies in Nigeria, worked with Dutch film makers, featured on Dutch Radio and celebrated on numerous news papers in The Netherlands. Tony who is also the Executive producer of the very first Nigerian Animated movie "Chika & the Warriors" made Nigerians proud on his wedding day.

Holland practically stood still as guest from Nigeria, Amsterdam, London, Germany, Belgium and the United States came to show Tony and his bride how much they love them. At the church wedding, everyone thought they had seen the best of the bride (Maaike) as she radiates in her wedding gown, but she surprised everyone at the reception when she changed to her Nigerian native attire.
She was a sight to behold and Nigerians present didn't disappoint as the flow of dollars didn't stop. As with his movies where there is always something to learn, Tony's marriage showed everyone present that it was not just another marriage, but a bridging of two cultures.
The guest went wild with excitement when the Groomsmen (Nigerians) and Bridesmaids (Dutch) together with Tony and Maaike gave a dance performance that highlighted the beauty and importance of integration. Most of the Dutch guests present had never experienced such a wedding before, so they were full of surprise and questions as they ate, danced and partied till the early hours of morning. Once again as with his movies, Tony's marriage gave a good account of his country of birth Nigeria, while the bride showed everyone that she has embraced Tony and his culture long before they got married. Below are pics from the wedding. Enjoy!
Click the link below to go to ...
Director Tony-Holland's wedding album.!