June 25, 2007
|
Nollywood At Large
ALL ABOUT HANKS ANUKU, NOLLYWOODS' GANGSTAR ACTOR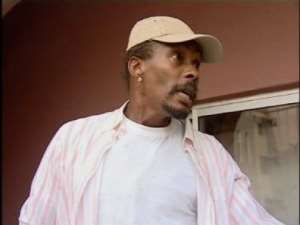 Nollywood star actor, Hanks Anuku, is not only associated with bad guy roles in the Nigerian movie industry. He is an actor that loves to ride on heavy racing motor bikes on the streets of Lagos. Although his accent is American having lived in the United States for a very long time before returning to Nigeria, he is deeply rooted in the African culture and loves his people dearly.
In a recent interview with the press, Hanks disclosed that before he joined Nollywood, he had played some movie roles abroad. According to him, he was introduced to the Nigerian movie industry by Regina Askia and his first movie was an Igbo Freak titled 'The Skeleton' with Mr. Fidelis Duka. Since then, he had featured in countless movies.
Among these movies are the senator 1&2, 'The Senatorium,' 'My Love', 'Desperados,' 'Broad Day Light and other best sellers.
Although some people who watch his movies claim that he is a tough actor who likes to play tough roles, he said, people could play what ever role given to them in the make-believe industry but that does not mean that is what they are in real life. The important thing is to interprete the roles well.
Hanks Anuku who was born in Ibadan 40 years ago, attended Loyola College Ibadan and Auchi Polytechnic and graduated in 1981, before moving to the United States of America. He said he came to the industry to build up the children to make them comfortable and to build on the good things of life.
He urged the upcoming artistes to be dedicated, shun rumour mongering or be jealous of one another because everybody is a star provided you identify your talent and develop it.