My father wanted me to be a lawyer –Segun Arinze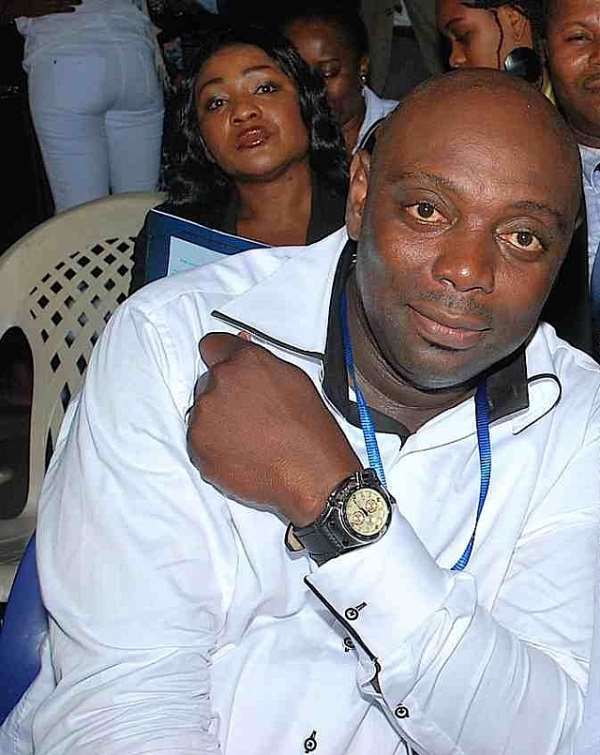 The first thing that attracts people to actor and producer, Segun Arinze is his doe-eyes and golden voice, which have been endorsed by many brands. In this interview with Senior Reporter, Ifeoma Meze, he recalls his beginning in the entertainment industry and the journey so far.
A good number of your fans admire your impeccable English and accent and wonder if you studied abroad
Well, that is the kind of training you get working with people who are intelligent and quality professionals. I did voiceover for a lot of good hands like Soni Irabor, Bisi Olatilo and Osaze Iyamu. The diction has to do with training. Besides, English is my favourite language, I loved it while in school; it was my best subject. I attended one of the best schools around in those days. English, like other languages, evolves, so I move with the trend, with the dynamism and evolution. I develop myself. Also, I can't but be good with the kind of directors I have worked with, the kind of books I've read and influences around me.
Are you one of the people that started acting by chance?
For me, acting is not by chance, but by choice. I demonstrated traits of acting right from early childhood, and the instinct later stuck till today and has brought me thus far. My acting career was driven by passion and as a student back then in Ilorin, I featured in drama and Ripples on NTA, and this caught the attention of my dad who tried to probe my interest in acting, but later gave up. I was greatly influenced by some gurus in the industry back then like Prof. Femi Osofisan, Bayo Oduneye, Olu Jacobs, Segun Ojewumi who is now a professor, Sam Loco and so on. For me, it's really interesting and I am doing this because I have passion for it not just to make money.
I hung out with guys in the Arts Council back then and they said I have a good voice and acting potentials, so they tried me out and that was it. It worked and I started singing. It started some 20 years ago when I met a friend, Ayo Orowale, way back in Ilorin, Kwara State. He introduced me to the theatre and we formed a playgroup called Palm Players. Ever since, there has been no going back. I knew I loved acting and I was going to be an actor, so when the opportunity came I went on to read drama at the University of Ife, now Obafemi Awolowo University. I thank God for blessing me with so much talent. I mean I can sing, act, write copies and scripts, do voiceover, produce and direct, sometimes do PR work when I have the time.
At times I think I am suffering from over talent, because I play multiple artistic roles, I sing, I write, I produce, I direct, I am a trained actor. So in the early 80's when a friend, Ayo introduced me fully to acting, it did not take me time to shine brilliantly and rise to stardom.
It seems voiceover and TV commercials consume more of your time these days than acting
Yes, not that I have left acting because it's what I love doing and to some extent what brought me into limelight but I must say that the commercials, voice over, writing and producing take much of my time.
When was your first professional act?
I had been doing some stuff but my first professional performance was in 1984.
How nervous or shy were you at first?
Not at all, of course before then I had done some stage plays though this was a larger audience of more discerning minds. Besides, I have always been a bold and courageous person. So I was not shy or nervous. Ever since, I kept shooting up and I just knew there was hope for me in this career.
What was the reaction at home when you decided to take acting as a career?
Of course my dad didn't like it at all. Every entry into acting I made was rebuffed vehemently by him. He wanted me to be a lawyer. I think what changed his mind was when I was still in Ilorin, we did a film and they were showing me on TV and my dad saw it and came to wake me to see myself on the screen. That softened him a bit but not totally. Of course, when he got to work, a lot of people told him they saw me on TV. But my grandmother didn't like it and wanted me to be a lawyer. Even when my dad had softened, my grand mom was still adamant on me becoming a lawyer. They said theatre was not a paying job and that it was for rascals.
What about your mom?
My mom was very supportive; she was behind me all through.
So what changed your grand mother's mind?
Yes, that was when I went to see her in Suleja and a large crowd followed me shouting Black Arrow. It was serious; the entire neighbourhood went gaga. When I say crowd, I mean crowd of over 4000 people and believe me am not exaggerating.
Did that change her impression of the arts?
She was dumbfounded. She couldn't believe her eyes and she was really proud of me and my chosen career.
Would you say your growing up influenced your career choice?
Well, my father is from Badagry in Lagos State, while my mother is from Anambra State. I come from a family of seven and I am the first, the reason why I had to be well-focused and serious with life decisions I took was because my younger ones are there looking up to me for moral support. I was born in Onitsha but I practically grew up in Lagos, in fact my primary and secondary education were somewhere off Bode Thomas in Surulere. My father was a military/businessman so he travelled a lot and moved with his family. So, we found ourselves moving from one place to the other with dad but it got to a point I told them I was not moving again, then I stayed back in Lagos where I started my career and later went to the University of Ife where I studied theatre art.
Are you the only one that is into acting in your family?
For now I am the only one acting in my family, though very recently, my younger brother went into television production, another one loves music and is studying mass communication at the Lagos State University (LASU); he plans to be a broadcaster. My son is into acting too.
What will you do if a child of yours decides to take up acting as a career?
See, it is not about the money but about passion, talent and determination. If the child is ready to face the rigours and challenges and has the talent for the job, why not? But that child must be ready to be a true blueprint professional and not just a cosmetics actor/actress. It entails a lot, it entails focus, tenacity, determination and discipline.