April 22, 2011
|
Nollywood Media
Nollywood mourns Ashley Nwosu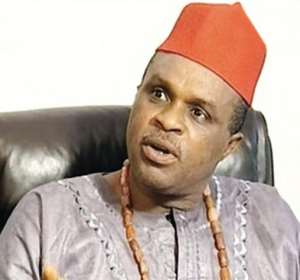 Ashley Nwosu Nollywood lost yet another talent, Ashley Nwosu, yesterday. The well-loved actor cut his acting teeth in the Nigerian Television Authority tele-movies and soap operas, before having his real break in the phenomenally successful Day of Reckoning in the early 90s. Nwosu died without actualising My Third Eye, an NGO, he hoped would help government monitor how governance was imparting on the citizens at the grassroots.
After battling with a chronic liver disease which left amiable actor, Ashley Nwosu hospitalised at the Military Hospital, Yaba, Lagos, for close to one month, the Umuahia, Abia State born actor is dead! He passed on the morning of April 21 after slipping into a coma that lasted roughly two days. The unfortunate incident has inadvertently thrown Nollywood into a mood of mourning, confirming the depth of relationship he shared with his colleagues while he lasted. Palpable anxiety over Ashley Nwosu's life became noticeable in Nollywood on Tuesday, when some artistes who visited him at the Military Hospital, confirmed that he had slipped into a coma, assuming a darker skin tone. "He was in a bad shape on Tuesday. He was dark and unconscious, with his mouth hanging open. Nose catheters were all over him. In fact, he was in coma, but the doctors were optimistic that he would make it, but the situation got worse on Thursday morning.
On Wednesday actually, series of text messages were being passed around, asking colleagues in the industry to say a word of prayer for the actor, but it is unfortunate that he could not make it", said an industry source. Already, the whole of Nollywood has been paying tribute to Ashley Nwosu for leaving indelible marks in the industry.
National President of the Actors' Guild of Nigeria, AGN, Segun Arinze told us that his death was a great loss to Nollywood in particular and the nation in general. "We have lost yet another fantastic actor. We are going to miss him definitely, because he represented a bundle of talent. It is a rather unfortunate incident. Aside Nollywood, the entire nation will also miss him", Arinze said. Bond Emereuwa, the National President of the Directors' Guild of Nigeria, DGN, in his tribute called Ashley one of the most amenable personalities in Nollywood.
"Working with him was a delight. I tell you Ashley Nwosu was one of the people you will work with and pray that the opportunity to work with him again presents itself. He was one of the amenable personalities in this industry. Many film directors who worked with him will also tell you that. Ashley would work with you without giving you any problems at all. He was a professional to the core". Paul Obazele, the National President of the Association of Movie Producers, AMP, said he was commiserating with the entire industry and Ashley Nwosu's family over the irreparable loss.
According to him, Ashley conducted himself in a manner that attracted so much respect for him, which made him one of the actors most producers loved to work with. "We will definitely miss him. I am in fact short of words to describe him. He was respected among his colleagues, because of the way he conducted himself", he said. T
he duo of Aki and PawPaw, Chinedu Ikedieze and Osita Iheme, who starred alongside Ashley in countless Nollywood home videos, said the news came to them as a huge surprise. According to Osita Iheme, (Paw Paw), he got the news shortly after it happened and was left speechless. "I was shocked and speechless when I got the news this morning. I just could not come to terms with the fact the he was no more. In fact, as I am talking to you now, I am on set with Chinedu at Enugu and the whole artistes here are mourning, everyone is missing Ashley already. He was a nice man.
My experience with him on many sets where he played my dad was memorable. He was the kind of person who would not give you hassles. He did his job like a professional and was always punctual on set. I cannot recollect any incident where he had to hold other artistes up. I am in deeply pained". Ashley Nwosu starred in many movies including Glamour Girls (1), Power of Love, Prisoner of Love, Expensive Game, and Passion and Pain amongst others. Besides acting, Nwosu had a hidden passion for music as he revealed before his demise, "Yes I have a very big passion for music. I would say acting was a second talent because when I was 10 years old, I used to entertain people in my community through music".
Another top actor, Emeka Enyiocha, who was also shocked, regretted Nwosu's sudden exit. He called on stakeholders and relevant government agencies to immortalize the late Nwosu, whom he described as a "big brother and uncle."
Also mourning, Mr. Paul Obazele, the national president, Association of Movie Producers (AMP), who worked and collaborated with the deceased thespian on many laudable projects, stated that he was devastated by the news. He said the late Nwosu was a dedicated and committed entertainer, whose good works in the industry would surely outlive him.
Donald Okoli, another highly-rated producer in Nollywood, who worked closely with the late thespian, when he produced and later premiered his debut movie, "Shield of Faith," at the Silverbird Cinemas, Lagos, in 2010, said that Nwosu's demise had left a big vacuum in Nollywood. "I knew he was ill, but did not know he would die this early. We will forever miss and mourn his painful exit. Adieu, big uncle," he lamented.
Click the link below to go to ...
BREAKING NEWS: Actor Ashley Nwosu dead !