Tracy Sarkcess Launches Modelling Career; See Her On The Runway Of Glitz Fashion Show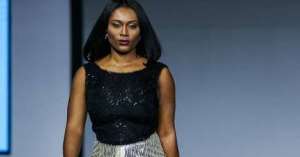 Tracy Sarkcess wife of Ghana's 'Highest' rapper, Sarkodie was reportedly on the runway during the Glitz Fashion Week 2018 held in Accra on the night of Saturday, October 20, 2018.
The moment sent audience into a frenzy, when the big size models turned up on the runway for popular fashion label Rysen Clothing and of course, the first lady of Sarkcess Music, Tracy was part of the models. She wore a black sleeveless blouse over a long ash-coloured slit, completing her looks with a black purse.
Tracy looked entirely stunning as a model, and her looks in the photo is full of life and we just can't have enough of her. Her confidence was also unbeatable.