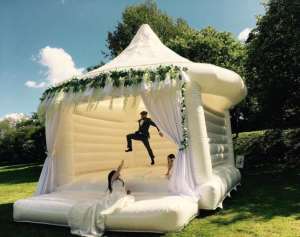 Nigerians are definitely the first to commence this trend in Africa.
With the dynamism of the wedding culture, it looks like one will have to simply rule of thoughts and imagination of what your future wedding will look like.
Each and every day something new pops up in the trend search which makes it difficult to figure out what kind of vibe you want. As much as you want it to be timeless, trends are subjected to change.
From what we are seeing on fashion tabloids, the wedding bouncy castles are only a thing in England at the moment but we are very sure Nigerians will, of course, be the first to commence this trend knowing very well how much of pacesetters they are with regards to latest fashion trends.
A quick word of advice for any bounce house companies in the US, make this fun trend suitable for the climatic conditions here in Africa because we're predicting that Africans will desire to use this trend for their weddings and might even get sizes that will shoot through the roof!