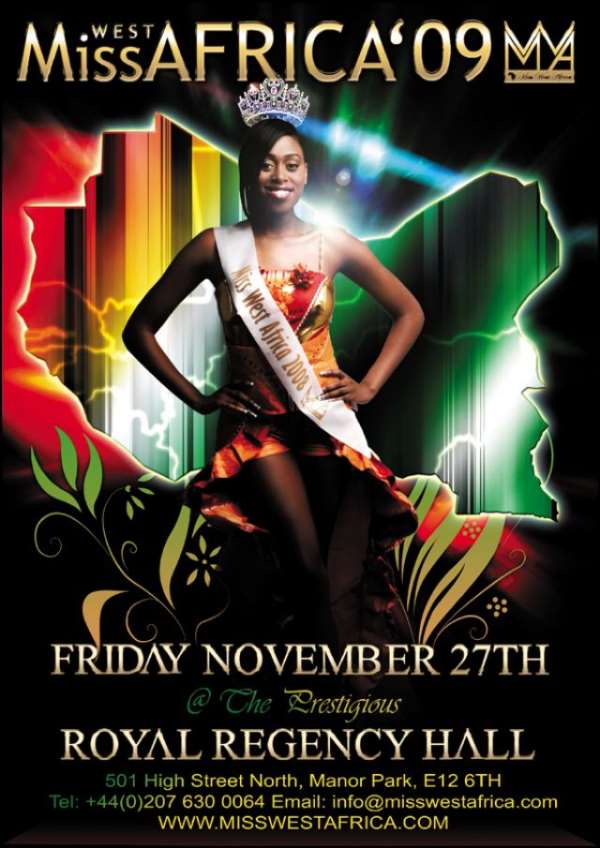 After the tremendous success of Miss West Africa 2008, Amina Kamara and the Miss West Africa team have returned organising Miss West Africa 2009, and it is destined to be much bigger. There has been an intense level of voting with over 10,000 participants and with tickets almost sold out already there is no doubt about the rising tension and competition amongst the pageants which can be seen on the official website. Last year, Amina Kamara, who became the first ever Miss West Africa, won a title of which she never imagined the magnitude and responsibility that came with being the beauty, the face and the personality to represent the Western region of Africa. To achieve this Amina Kamara had to put down her Sierra Leone patriotism and magnify her image as a West African and a unifying figure amongst all West African countries and cultures. Amina toured West Africa participating in charitable work as well as broadening herself to various cultures. She is currently the most popular black beauty pageant to emerge out of the UK.


Despite the success of Miss West Africa 2008, the organisers have ensured that Miss West Africa 2009 is going to be much more entertaining, with a winner that will further the goodwill activities of Amina Kamara. Nana Tamakloe, founder of Miss West Africa stated "Miss West Africa is not just a beauty pageant to me, it's an opportunity to steer the mentality of many young girls out there to acknowledge and respect West African culture, and by having such a beauty pageant that doesn't only focus on the beauty but also the intelligence of the applicants we can inspire and insert pride into many of the young West African girls of today."
Miss West Africa 2009 will be taking place in London, as it did 2008 at the Royal Regency Hall, a round table venue seating over 700 guests, a few celebrity and some diplomats of West Africa. The organisers have claimed the second Miss West Africas is set to take place in London again as London is a boiling pot of various races and nationalities. "By holding the first Miss West Africa in London we noticed how many different communities embraced West African culture and were amazed by it, we think it would be good to exploit this for Miss West Africa 2009 on a much bigger scale before bringing it home to West Africa in 2010". This year's Miss West Africa is set to be a smash with celebrity judges and hosts with various African diplomats and the winner is set to be represented as an international figure.
The 2009 pageants who recently engaged in a vigorous struggle for votes are now being groomed for the event on 27th November. Miss West Africa 2009 will be hosted by award winning comedian, Eddie Kadi, with performances from UK Ivory Coast dance group C'MAD. The event will be support Yvette Gates, a young Gambian child in need of bone morrow donors. MWA 2009 will have participants from Ghana, Nigeria, Benin, Guinea Bissau, Sierra Leone and more. This is your chance to come out and support the strongest contender. All 2009 pageants can be viewed on the official website at www.misswestafrica.com.
For more information regarding Miss West Africa contact
Miss West Africa ltd
+44(0)207 630 0064
www.misswestafrica.com
[email protected]