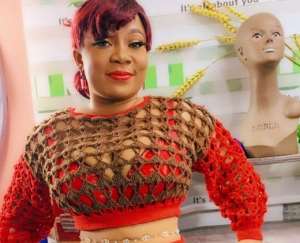 Vicky Zugah
Actress, Vicky Zugah says young guys below age 30 have been bothering her in her DM for a relationship.
She has issued a strong warning to them because she is not into younger guys.
According to her, she can never date any man below 30.
In an Instagram post over the weekend, she stated one of her reasons for arriving at the decision was because her kid brother is even above 30. She doesn't see herself getting into an amorous relationship with anyone younger than her brother.
She is not interested. She is only open to mature men.
"I don't know how many women at my age are experiencing this. I'm hitting 40 in no time. So all the young men below 30 who are hitting me up in my DMS and everything please; I'm someone's, old lady. Don't try me. My kid brother is in his early 30s so a man below 30 what do you want from me? I can't offer you anything, let's not waste each other's time. Dm me except if it's a business or platonic relationship. Don't DM for marriage or relationship. It won't work if you are below 30. Forget it, please. Delete, avoid me wherever you see me. Once you are below 30, I don't want," she said in a video.
"All below 30 years men in my Dm asking for anything other than business and platonic friendship…, with all due respect GET OUT!" she wrote under the video.