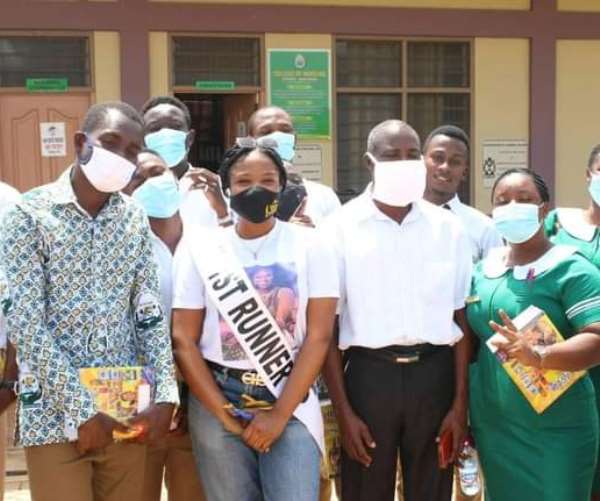 The 2020 Ghana Most Beautiful (GMB) First Runner-Up who represented Ahafo Region, Abena Antwiwaa Dapaah in collaboration with Heavens Black Mosquito Coil have presented 5000 exercise books to some selected Senior High and Basic Schools in the region to enhance their study
In an interview, Acherensua Senior High, Kenyasi No.2 Methodist Basic School, Hwidiem Methodist Basic School, Obengkrom D/A Basic School, Ntotroso College of Nursing, Ahafoman Senior High among others are the beneficial schools.
According to Abena Antwiwaa Dapaah affectionately called Abena, there are many challenges students and pupils encounter in the region in the line of students so she thought it prudent to distribute the said materials to minimize the stress both parents and children go through.
" I encourage you to make good use of the items provided to aid you have a better future just like your role models " she stated.
She, therefore, urged parents in the region to invest hugely in their ward's education irrespective of where they find themselves because doing that is the only means to guarantee a better future for their children.
In addition, Abena told parents not to turn death ears to their children who either want to get themselves into an apprenticeship or are already in it because it also pays.
"In brief, parents must value their children and help them to have a better future " she mentioned.
She assured the people of the region of using her position attained to provide support to ensure that Ahafo competes with other regions at all levels.
At Obengkrom in the Asutifi North District where D/A Basic School was the beneficiary the Headteacher, Charles Gyabaah expressed gratitude to Abena and her team for the support which will impact positively in the children's education.
The Headteacher called for a passionate appeal to individuals, companies, Non - Governmental Organizations among others to render support to schools in the region especially those in the remote engulf because most teaching and learning materials are not up to standard to help them compete with others.
"Some pupils easily walk away from class anytime there is a class test because they don't have exercise books which is pathetic and show how pupils over here are suffering, " he stated.