Smokey and S.O. Simple from Nigerian hip-hop act 419 Squad featured on new MOBY single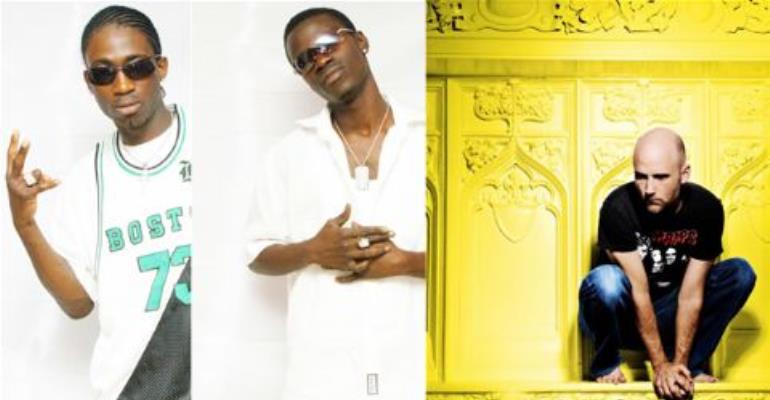 American songwriter, musician, singer, producer and DJ Moby will release his new single Alice on 17 March 2008. Taken from his sixth studio album Last Night (out on 31 March 2008), the futuristic hip-hop track features UK-based underground rapper Aynzil, as well as UK-based Nigerians Smokey and S.O. Simple from 419 Squad. The 15-track album was recorded in Mobys home studio in Manhattan, New York, and mixed by Dan Grech-Maguerat who has also worked with Radiohead and the Scissor Sisters. It features a number of guest vocalists including the original 70's MC Grandmaster Caz, one of the writers of Rappers Delight.
Moby is a world famous techno, electronica, ambient artist. His biggest album to date Play (1999) has sold 9 million copies worldwide. He has also collaborated with Public Enemy, toured with the Red Hot Chili Peppers and produced for Britney Spears. Moby is also known for his feud with Eminen in 2001 and for his interests and beliefs outside music: he is a non-denominational Christian and vegan and an advocate for a variety of causes (for instance, he serves on the Board of Directors of Amend (http://www.amend.org), a non-profit that implements injury prevention programmes in Africa).
About the track Alice Moby says: The song Alice started with a mistake. Theres this effect that I have, a very old proto-distortion pedal, and I was playing a bassline through it and there was something broken on the distortion pedal and it made this weird but fantastic feedback. So this song starts with this weird bass feedback, which is just a really happy mistake because it wasn't originally supposed to sound like that. After writing the track I then sent it out to Aynzli and the 419 Squad, who contributed their amazing vocals. Aynzli's style is so fast and so dense and fluid, I think that he's going to have a remarkable career. And what makes the 419 Squad so special is that they go back and forth between Yoruba and English (as they're from Nigeria)."
Lagos-born singer S.O. Simple and London-born rapper Smokey first came to the publics and medias attention as members of the pioneering Nigerian group JJC & 419 Squad whose exciting and fresh fusion of hip-hop, African flavours and much more, with lyrics in Pidgin, Yoruba and English, was truely ground-breaking.
In 2003, the group released their album Atide (meaning We have arrived in Yoruba) which was independently marketed, promoted and distributed by JJCs production company Backbone Music. Despite the lack of backing by a major label or distributor, the strength of the music and its originality resulted in huge achievements and critical acclaim. While some of the tracks contained traditional African elements, the album went far beyond what is usually described as World music. The track Atide (feat. Cherise from Big Brovaz & BootyLuv) is a Latin-flavoured Anglo-Yoruba feel-good anthem which has been featured in Stephen Frears Oscar-nominated film Dirty Pretty Things and is included on Charlie Gilletts World 2004 compilation (Wrasse Records), while the Salsa track Malemicita has been included on Union Square Musics Afrobeat Sessions compilation and Ewajo can be found on Manteca/ Union Square Musics Global Hip Hop compilation.
Their videos were on heavy rotation on UK-based African TV channels BEN TV and OBE TV, as well as Pan-African channels MTV Base Africa and Channel O. JJC & 419 Squad were also involved in a Channel 4 TV drama called Stealing Lives: the group made cameo appearances and their music was used throughout the film which was based on the true story of London-based Nigerians being involved in identity fraud.
JJC & 419 Squad picked up numerous awards, too, such as the 2004 Kora award for Best African Group, the Award for Excellence for outstanding contribution to the positive image of Africa and Africans in the UK (presented to them by The Trumpet newspaper), as well as the Best Artiste Award presented to them by US-based Nigerian magazine Momentum MV at a ceremony in Maryland, USA.
JJC & 419 Squad performed at numerous events, to World Music fans, Nigerian audiences and hip-hop fans, including the London United/ Rise 2005 festival (main stage), the RESPECT 2003 festival at the Dome (main stage), the WOMAD 2003 & 2004 festivals (their 2003 performance on Charlie Gilletts stage was broadcast on Skys AC-TV and live on BBC London radio), the Fast Forward event on Trafalgar Square, BEN TVs Nigerian Independence Party at the Ocean, at the Barbican (part of the Black President Fela Kuti season) and both The Shrine and Out Of Africa at Cargo. Internationally the group have performed in Paris, Maryland/ USA (at the Momentum MV Magazine Award Show where they picked up the Best Artiste award) as well as Lagos and Abuja/ Nigeria (MTV Base Africas televised launch in Abuja alongside Ludacris and 2-Face, as well as at Femi Kutis New Africa Shrine, Fantasy Land, Do It All and The Dome).
An updated version of their album, entitled Naija Atide!, was released in Nigeria in 2004. It included new versions of old favourites, remixes, as well as many new songs, such as collaborations with Tanzanian RnB superstar T.i.D., Ghanas number 1 hip-life act Tic Tac and the popular Nigerian duo Maintain, plus a DVD featuring their music videos.
Smokey on MySpace:
http://www.myspace.com/smokey419
S.O. Simple on MySpace:
http://www.myspace.com/sosimple419
Mobys official website:
http://www.moby.com/
Watch the video (Alice), directed by Andreas Nilsson:
http://www.youtube.com/watch?v=Hy_oabU77GY
For more info on Smokey and S.O. Simple contact Ilka Schlockermann:
+ 44 (0)79 3206 6624 || [email protected]