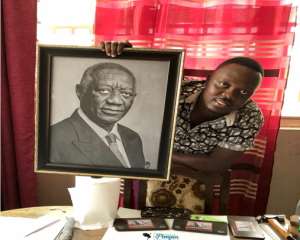 Julius Selby [Artwork by Pimpin] is a talented young Ghanaian artist whose works often leave people asking themselves if they're looking at a pencil drawing or a high-definition black and white photograph.
Delby's interest in art, and drawing in particular, was sparked at a young age.
Looking at his fantastic artworks, it's safe to say that he has come a long way in very little time.
He has quickly earned a name for himself with his unique style of drawing that blends photorealism and surrealism on a massive scale known as Artwork by Pimpim.
His work has the look of vintage photography, but usually with an unsettling or incongruous twist.
Artwork by Pimpin pencil drawings are amazing to look at, but he regards his hyperreal work as just a stage in his ongoing evolutionary process of exploration and development.
Over a period of roughly two years, Artwork by Pimpin drew his intricate piece, which we still – no matter how long we look at it – cannot believe is a drawing.
Lots of artists do not go in for degrees, he said, but talent as well as knowledge is necessary.
In an interview, he said people are willing to pay for stuff that is creative and new.
"His works are, in my opinion, very hard to compete with," he added.
Here are some pencil drawings by Pimpin: