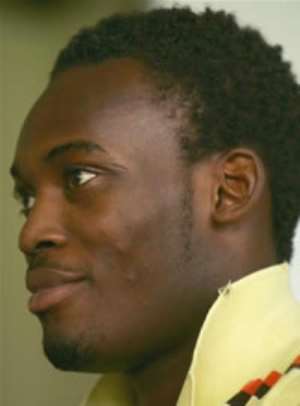 Didier Drogba and Michael Essien are starring on a soon to be released anti-racism single. And footage of them recording the song is featured in the new 'soccumentary' film about Chelsea Football Club, Blue Revolution that is released next week. The song "Skin" by 'Wills and the Willing' will be out in October to coincide with Kick Racism Out of Football week.
Our top goalscorer last season and our Player of the Year went into Air Studios in London in the spring to add their distinctive voices in a rap style to the track.
All the proceeds from the sale of the single will go to Chelsea's official UK charity partner, Drogba explains in the feature length film, which goes behind the scenes at Chelsea over the last three years, why he got involved.
'Racism is something very difficult to live with. And you think it's improving but every time there's some idiot who doesn't really know what they're talking about. 'It's our decision to fight against this. There's no difference, for me, between black and white. And I wanted to do this song because I really love the lyrics.
It's very simple but they can touch your heart,' he said. Wills and the Willing will be performing 'Skin' at the Royal Albert Hall on Sunday September 23 at charity function in aid of Africa. Drogba is also set to do vocals on another song, 'Gun Crime'.
The connection between Ian Wills, lead singer of the band, and Chelsea originally came through his friendship with a club official, known enigmatically only as 'Barny'. Wills said: 'Chelsea adopted one of my early singles "It's Easy" as a track they liked to play at the interval during home games.
'This created an awareness of the band amongst the football world and I was fortunate enough to be able to invite Michael and Didier to contribute to this important cause and they very kindly accepted.
'It's not a football song but it has a very important message, having two of the best footballers in the world on the track just means the message will reach a little further.
The achievement of kicking racism not just out of football but also out of society in general is something that is long overdue.' The song is the first on the new album by Wills and the Willing, 'Hero's and Villains' which is scheduled for release in the spring 2008.
Guest vocalists on the new album include Mercury Music Prize nominated singer Tom McRae, rapper Daniel Collier as well as Drogba and Essien. Blue Revolution is released on DVD on September 24 and will be available in the Megastore at Stamford Bridge and via the Online Megastore.