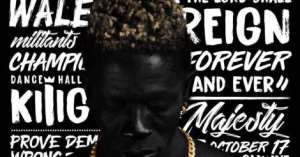 Album: Reign
Artiste: Shatta Wale
Featured artiste: Patoranking
Producers: MOG Beats, DJ Milzy, Damage Musik & Shawers Ebiem
Label: Zylofon Music, Shatta Movement Empire Shatta Wale, in his entire career, has always focused on three things in his music - women, riches and ghetto struggles. These three elements have been part of his musical journey and he has no problem repeating them.
The variety of his lyrical content - aside from his distorted sounds - has augmented his enviable hit streak.
So, much was expected when he announced "Reign" album a few months ago.
Prior to the release of his 5th studio project, so much was expected - and this was due to the promises he made to his fans and music lovers in general.
He had promised an exceptional and diversified music and wouldn't be his usual records.
He went on a media tour bragging about how his music stands out and why his new album is worth the wait.
From causing controversies to perennial publicity to social media hypes , Shatta Wale raised the bar in pre-release hype. He didn't waste any moment on radio and TV - there have always been big stories from his interviews.
Then, on Saturday, October 13, he dropped his highly publicised album and sealed with a massive launch at the Fantasy Dome, Trade Fair Centre in Accra. He single-handedly hosted the entire show and according to reports, 20,000 fans were in attendance.
After the release, the question asked by music most fans is - was the album worth the wait and hype? Of course, the album trended for a few hours on Twitter and dominated charts on iTunes.
But, despite that, what conglomeration did Shatta Wale offer to his fans?
Well, unlike 'After the Storm', Shatta Wale didn't go outside his comfort zone for 'Reign' collection. The album touches on only two topics - women and brags.
His love for women and relationship struggles are encapsulated in track 1 (Don't Baby My Baby), track 2 (Bend Over), track 3 (Squeeze), track 4 (I Regret), track 5 (If I See), track 10 (Rosalinda) and track 11 (Sister Sister). All the seven tracks carry similar love messages from Shatta Wale's previous tracks. It's just an echolalia, to be honest.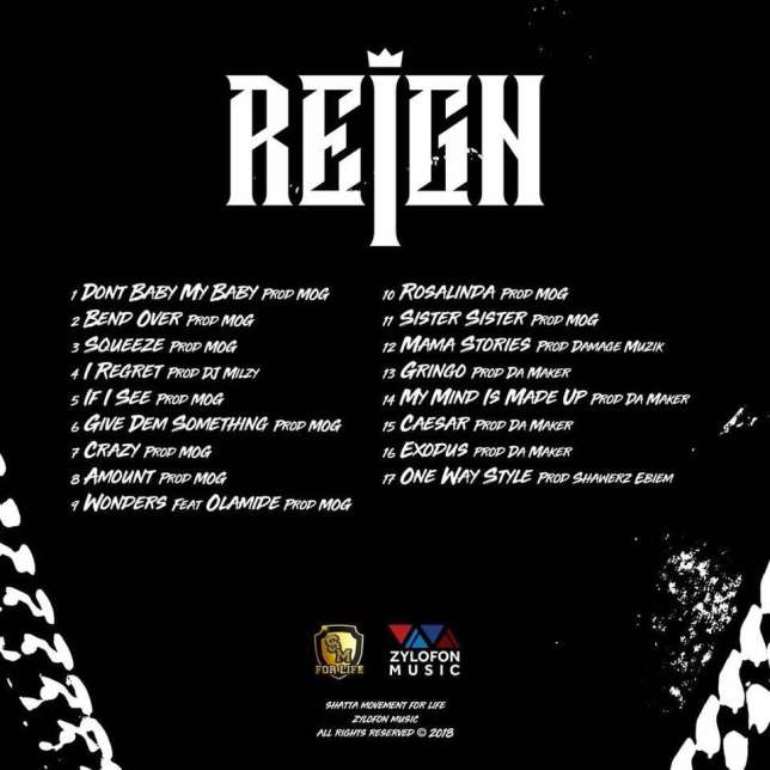 Shatta Wale's "Reign" album tracklist cover artwork

On his braggadocios attitude, track 6 (Give Dem Something), track 7 (Crazy), track 8 (Amount), track 9 (Wonders), track 13 (Gringo), track 14 (My Mind Made Up), track 15 (Caesar), track 16 (Exodus) and track 17 (One Way Style) capture it. There was a lack of abridging in the lyrical content - leading to the repeating of his every day brags.

However, there was one track that carries a great message. Track 12 (Mama Stories) reiterates the power of mothers (women) and feminism and the important roles they play in the success stories of men. Anyone with descending mind would shed tears listening to 'Mama Stories'. Hope this record becomes the official Mother's Day anthem.

In all of this, Shatta Wale did one unique thing to the album - which is the quality of sounds.

Keen followers of Ghanaian showbiz will attest to the fact that Shatta Wale has been subjected to so many ridicules because of the quality of his production. Let's not forget that Shatta Wale is a creative record producer but his own sounds can't stand the test of time.

Until his recent work with MOG, Possigee and Willis Beatz, he had been mocked on and off social media for his bad sound quality.

But he took a step further on 'Reign', revamping great Afrobeats sounds - credits to MOG Beats, DJ Milzy, Damage Musik and Shawers Ebiem. 'Ben Over', 'If I See' and 'Rosalinda' are just classic examples of Shatta Wale's improved sounds on the album.

Producing an archetypal Afrobeats brewed from the heart of Africa is a major boost for this album.

It's clear that Shatta Wale wants to claim ownership of the Dancehall kingdom in Africa but waged a war with duplicated lyrical content - the weakest weapon any lyricist would ever use.

Rating
3 (out of 5).
Stream the album below.