Take Your "Foolish" Apology Away – Counselor Lutterodt Tells DKB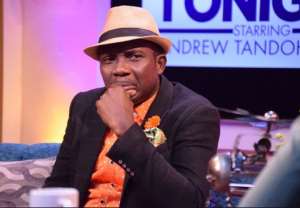 Controversial marriage counselor, George Cyril Lutterodt, has slammed comedian DKB for apologizing over his for poor performance at the 2018 Glo Lafta Fest.
The comedian apologised after he failed to impress his audiences at the grand event.
"It is not every day that your jokes land well, and I accept the fact that I didn't do well. Better luck for me next time," DKB was reported to have said after the show
Meanwhile, outspoken marriage counselor George Lutterodt has described DKB as "foolish" for apologizing over his poor performance.
"Nobody laughed at DKB's comedy, nobody clapped so let's ask yourselves what was the content of his package. Were the people there Nigerians? The people who were sitting at the Glo show were they Nigerians?" he asked
"When someone appears on stage and he is not funny again, we ought to ask ourselves – Is it because he is repeating his old jokes or making emphasis.
"DKB has gone and flopped and on top of that he has the guts to apologise that I know I didn't perform well, are you a fool? Do you think we apologise like that," he said.