Fuse ODG Drops New Single, 'Island' [Audio]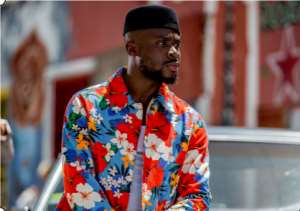 Inspired by hearing Latin sounds through his recent travels, 'Island' serves up a cocktail of Fuse's irrepressible Ghanaian energy with a reggaeton flavour rich with energising rhythms and strident horns.
It's a track which represents a natural evolution from his previous music as well as an exciting taster of what's to come from his forthcoming second album.
The track was produced by Dutch/Surinamese duo Yr$ Trly with RGen a Londoner with Sri Lankan heritage who previously contributed to the early Fuse track 'Antenna.'
Having travelled extensively with Fuse, the team all gathered in Ghana to record all of the track's live elements with local musicians.
According to Fuse the experience is about "going back to where you probably shouldn't be going back to!"
"It's about a relationship that feels so good, so you keep going back," he added.
"You know a relationship is toxic, but you keep going back because you have good memories of it. But once you're there, you realise why you shouldn't have returned," Fuse further stated.
A whirlwind of vibrant colour and uplifting island vibes, the accompanying video was shot in Puerto Rico.
It was a Natural choice given the style of the music, and Fuse spent some time listening to the islanders' problems and working out how he could help to raise awareness for their issues.
Excited by his new exploits to expand territories, he said it includes a collaboration with his hero Damien Marley on a track which reflects the unifying call of the Marley/ Nas album 'Distant Relatives'.
Outside of music, Fuse's current social initiative is to expand upon the primary school that he built in Akosombo, Ghana in conjunction with the Wood World Missions.
He has acquired land on the same site with which to develop a secondary school, and the longer term goal is to also build a university to help local children achieve their full potential.
Listen to the song here.
–