One of the songs on Ghanaian rapper M.anifest's 'Nowhere Cool' album has been featured on the soundtrack of a documentary called 'Hoops Africa – Ubuntu Matters.'
The rapper announced this via his twitter handle expressing his joy at hearing his song 'B.E.A.R in the documentary which aired on NBA TV 24th and 26th December, 2017.
"Airing on NBA TV! Dope to have my song B.E.A.R featured on the soundtrack of this Hoops Africa documentary," he tweeted.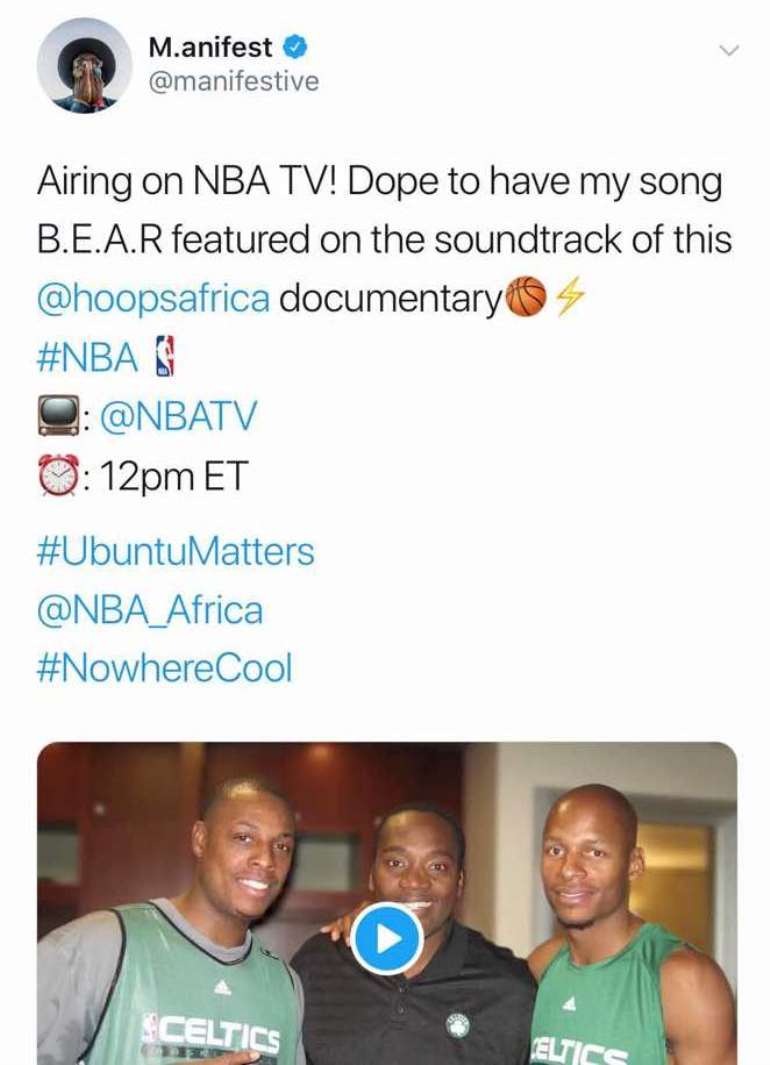 Hoops Africa: Ubuntu Matters is a documentary spotlighting basketball's impact on society and the development of the sport on the African continent.
The film begins in Harare, Zimbabwe, focusing on the journey of 16-year-old basketball player, Watida, who was raised participating in Hoops 4 Hope, a nonprofit organisation that uses basketball to teach life skills to children growing up in the city's high-density neighbourhoods.
After being named a Basketball Without Borders participant, Watida then travels to Johannesburg, South Africa, to Basketball Without Borders, a clinic for the most talented basketball players in Africa.
The film then covers the action surrounding the NBA's Africa Game, which is the first time the NBA played a game on African soil. This storyline also examines how basketball has the power to transcend continents through the story of the Boston Celtics, who rallied around the African philosophy of Ubuntu to overcome adversity on their way to winning the 2008 NBA championship.
Hoops Africa explores the dreams of young Zimbabwean youth and how basketball can be an incredible force for good. Through interviews with young Zimbabweans, prominent NBA players and legendary coaches, Hoops Africa demonstrates that the game of basketball can literally change lives across the world.
Featuring Hakeem Olajuwon, Dikembe Mutombo, Adam Silver, Luol Deng, Luc Mbah a Moute, Chris Paul, Doc Rivers, Paul Pierce, and many more NBA greats, this documentary shows us all why #UbuntuMatters.