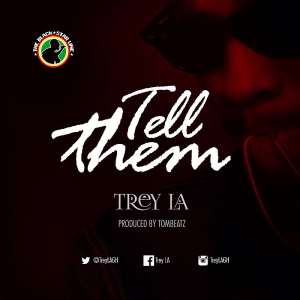 Produced by Tombeatz
Intro
Put them up like thaaaat, like thaaaat, like thaaaat
Wotso b3 yi wo3 y3 nye gangaliyawo vor n3 mikp)
woa d3 mi kona nu d3 ats3m3,ooooohhhh 2x
Chorus
We never cyant listen fi these people everyday
Nonononothing these people ah got to say
Shatta faya pon da Mountain, you better run away
Coz anytime we come around, you know we com fi slay.
(Yo) Tell them, say murder aaaahhhhhhhh
Tell them, say murder aaaahhhhhhhh
Tell them, say murder aaaahhhhhhhh
Tell them, say murder aaaahhhhhhhh
Verse 1
These rappers too weak, so I write with my feet
Move the throne around like village school boy with his seat
Coz I be the ruler, if this game be maths set
Live & die with the mic like Bonchaka's casket
I never dey play games, like Volta Nogokpo Shrine
Got more material than tailors, during Xmas time
I got bars and I got empty bottles to prove it
I'm A1, I'm dope, ask Ametepe Ruby
Fans chwin y3 huun mansu tis3 Accra plot
Ya traa wrapping (rapping), we're parceling like Santa Claus
I got hit songs like side A, of cassette tapes
My songs go viral like celebrity sex tapes
So rheumatism rapper, check your weak joint
Like radio frequencies, I stay on point
Too many lines, just call me the graph book
These rappers got foot rot; they can't wear my shoes, graaaa.
Chorus
We never cyant listen fi these people everyday
Nonononothing these people ah got to say
Shatta faya pon da Mountain, you better run away
Coz anytime we come around, you know we com fi slay.
(Yo) Tell them, say murder aaaahhhhhhhh
Tell them, say murder aaaahhhhhhhh
Tell them, say murder aaaahhhhhhhh
Tell them, say murder aaaahhhhhhhh
Verse 2
Like electricity bill, I bring it to your door
F3f3 kpl3 3kor, kp) m3 na ts)
Not sick, I bi sickler, kill like Hitler
Wrap (rap) like rizzla, keep it tight like stapler
Bag your best rapper like a midget
My rhymes tighter than Kaitlyn Jenner's surgery stitches
I'm Rosa Parks on the throne and I will never stand up
Peter Tosh on unicycle and I will never fall down
Carnivore of the food chain, on my neck the food chain
From the hood (Adenta) where wack rappers die by lynching
I don't even know the alphabets, so I no dey see "U"
F* the hype, if I catch you, I go kill you
I'm O.G., am gangster, I think like a fraudster
Old school like Nelly's face with the plaster
Mi huu 3maa dorsuu tis3 tanker driver
I'm "Master Richard" in "taxi driver", graaaaaaa.
Chorus
We never cyant listen fi these people everyday
Nonononothing these people ah got to say
Shatta faya pon da Mountain, you better run away
Coz anytime we come around, you know we com fi slay.
(Yo) Tell them, say murder aaaahhhhhhhh
Tell them, say murder aaaahhhhhhhh
Tell them, say murder aaaahhhhhhhh
Tell them, say murder aaaahhhhhhhh