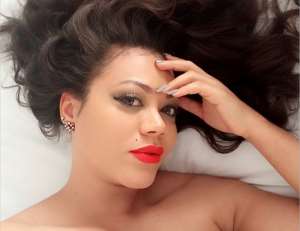 News of Ghana's bubbly actress  Nadia Buari giving birth to twins  has stunned many, including the Ghanaian media and some close friends of the actress.
The delivery of the twins – both girls – somewhere last week, or two weeks, ago has become the major topic for discussion in the Ghanaian media  after Myjoyonline.com and Hitz FM broke the news on Monday.
There are reports that Nollywood actor Jim Iyke, who is known to have a relationship with the actress, is not the father of the twins.
The big question begging for an answer is, who is the father of the twins? If it is not Jim, who is it then?
To me, it wouldn't be a big deal if Jim Iyke is the father but if there is a new man in the picture, then the media will have another big fat meat to chew on like a hungry pack of lions feasting on a well deserved kill.
But don't worry. It is just a matter of time. We shall definitely know the answer soon. That said, kindly indulge me in another fascinating controversy which appears even more intriguing. There is an old adage that said human behavior is like pregnancy; no matter what you do it will pop up.
(Nadia wore this to Majid Michel's mother's funeral on December 5, 2014)
But it appears Nadia has made nonsense of this age-old adage. Many have found it puzzling how the goddess on African screens will be pregnant for months and no one knew about it. Not even her close friends. The news of her delivery left many stunned.
I give her thumbs up for keeping that important part of her life a secret. It even took more than a week for her delivery to hit the media scene.
Nadia Buari is beautiful and her stills in front of the cameras is one that is applauded. She was famous but like a never quenching raging blaze, her relationship with Jim Iyke took her fame to a different pedestal.
After months, probably years, of speculations, Jim Iyke proposed to Nadia Buari in March last year. The actor proposed to the actress on one of the editions of his hit reality show, Jim Iyke Unscripted. Jim proposed with a six-carat-diamond ring while having dinner with Nadia, who didn't hesitate to say "Yes". That was one exciting public spectacle.
I might be wrong but the last time Nadia was really seen in public was at  the burial of Paulina Afi Olabode Olympio, mother of actor Majid Michel on Friday, December 5, 2014 .
Now if she gave birth in February 2015, it means that she delivered about two months after that burial. So how come nobody noticed it?
I have heard that it is sometimes impossible to notice the pregnancy of some women unless they are due.   
A retired midwife, who worked with the SSNIT (Trust) Hospital in Osu, Accra explained to me that pregnancies are always visible from "5 to 6 months" especially if the woman is carrying twins.
"5, 6 months somebody should see it," and even in a maternity dress, "you will see that the tummy is protruded. [With twins] the tummy will even be bigger than the single fetus." she stressed.
Nadia Buari wore a beautiful black kaftan dress to the funeral. Was the dress enough to hide the pregnancy? If she gave birth in February, it means she might have been six or seven months pregnant. Won't it be visible at six or seven months?
Some women have also explained to me that, it is very possible that a woman could be pregnant for seven months and it will not be visible. Is this true?
One question that remains unanswered is, why did the actress go to such great extent to hide the pregnancy?
Is it a case that she just wanted to keep that part of her life private? Then she deserves an Oscar for that!
Follow me on Twitter @delaXdela and Instagram @ citizendela
  Story by Ghana | Myjoyonline.com | Ernest Dela Aglanu (Twitter: @delaXdela / Instagram: citizendela)