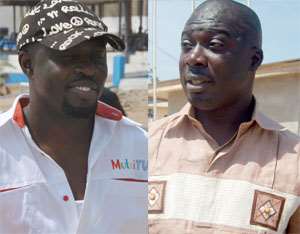 Abdulai Awudu, programmes director of Multi Tv and Ricky Anokye, Channel manager, Multi TV
As part of efforts to satisfy the demands of its viewers, management of Multi TV has announced that plans are far advanced to introduce exciting new programmes on its Adom TV channel.
According to the management, Adom TV continues to distinguish itself with well thought-out programming for the delight of its viewers.
According to the channel manager of Adom TV, Ricky Anokye, the new programmes, which would hit the screen very soon, are being introduced to complement the channel's exciting array of programmes, bearing in mind the needs of the channel's target audience and the offerings on the television landscape, adding that 'Adom TV is ready to entertain viewers with good programmes'.
The various programmes on Adom TV treat a wide range of issues, from the evergreen relationship matters, to the social, political, religious, and environmental issues, among others.
Ricky Anokye disclosed that the channel would soon introduce well designed programmes such as 'Anansekro' on Saturdays from 11:30am to 12:30pm, which would discuss and evaluate the Ghanaian entertainment industry with support from some selected showbiz personalities including entertainment writers.
Another interesting programme which would also hit the screens soon is 'Odo Ahomaso', to be hosted by seasoned actress and sex counsellor Akumaa Mama Zimbi.
The programme, which is an adult education programme, would be aired on Thursdays and Fridays, with a repeat on Mondays and Tuesdays.
Ricky Anokye again disclosed that a political and current affairs programme, 'Pampaso', would give political parties and constituents the opportunity to discuss issues affecting the society and the lives of the people.
He hinted that as part of the channel's determination to entertain its viewers, Adom TV was set to introduce a comedy reality show which would be hosted by the ace actor and comedian, Agya Koo, and 'Mmaa Formula' to be hosted by Sweet Mama Effe Amanor.
He further hinted that by the end of May, the channel would start telecasting an Akan drama series every weekend, starring all the Akan drama stars.
'The channel will also telecast 'Nbueke', an Ewe drama series, as well as 'Muihira', an Hausa chat room for movies. 'Susubiribi', a programme which has been running for some time now will soon telecast its season four. All the programmes yet to be aired have been put together for the non formal sector'.
On Adom concert party, the channel manager told BEATWAVES that the event had a five-year plan, with occasional reviews to upgrade it in order to satisfy its patrons.
He said the concert party would be held in Accra and Kumasi every two weeks and would feature seasoned music stars and comedians.
'Adom TV always wants to give viewers entertainment programmes which promote Ghanaian cultures including religion, drama, moral lessons among others. Adom TV believes in promoting Ghanaian culture and tradition to the outside world through the Adom concert party.
 By George Clifford Owusu