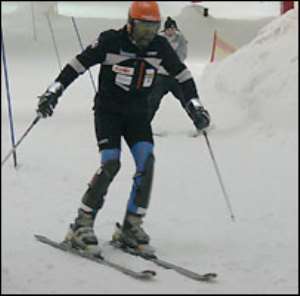 Kwame Nkrumah-Acheampong admits that Ghana is not a place you would associate with winter sports.
Yet the man who is known as Ghana's Snow Leopard is now on a mission to identify, train and recruit the next batch of Ghanaian ski racing stars.
Kwame has competed in top international competitions less than four years after seeing snow for the first time ever.
He will be joined in his talent hunt by US skier Ted Ligety, a gold medallist at the 2006 Winter Olympics in Turin.
Together they will train and watch the progress of a group of young Ghanaians who have expressed an interest in this exotic sport.
"At first it was difficult because Ghana is not a winter sports country... but we have convinced people," Kwame told the BBC's Fast Track programme.
"It is not difficult to get into skiing if you let yourself go."
Overcoming fear
He acknowledges though that Ghanaian would-be skiers need to know what kind of environment they will have to deal with when they leave tropical west Africa for the alpine slopes.
"Skiing is a tough sport - in terms of overcoming fear and the cold, so we will have a cold test," he explains.
"We will put the kids in a cold store. We don't want to take people to Italy and then find they won't go out in the cold."
The aspirant skiers will also undergo fitness tests and agility tests, before trying out grass skiing - the only kind of skiing you can do in Ghana.
"As long as you have a slope, you can ski on grass," Kwame explains.
"There are hills in the east - we just let natural grass grow on the slope. The biggest investment will be a ski-lift."
This trial period ends next month, when the youngsters will be assessed on their skiing abilities.
The two best skiers selected will have the chance to spend the northern hemisphere winter in Italy, continuing their education at the same time as learning more about ski racing.