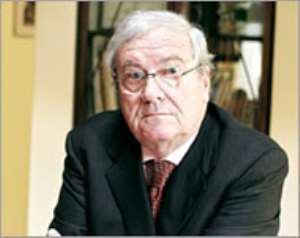 A former senator has been chosen as the man to clean up Italian football following a match-fixing scandal that has engulfed the national game.
Guido Rossi, a 75-year old expert in sport law, was nominated on Monday as extraordinary commissioner of the Italian soccer federation.
The federation's president, Francao Carraro resigned last week after accusations that he conferred with the country's leading club Juventus to have certain referees assigned to the Turin team's matches.
Carraro was the latest scalp in an ever-widening scandal.
On Monday Rome prosecutors questioned Luciano Moggi, the former Juventus general manager, who also resigned on Sunday.
Moggi, a controversial and influential figure in the Italian game for many years, is accused of influencing the appointment of referees for matches involving Juventus, the most successful club in Italian history.
Juventus won its 29th Serie A league championship on Sunday but may find itself stripped of the title, and last year's, if found guilty of fraud following the investigation.
Interior designs
On Tuesday Italians newspapers printed alleged transcripts of phone conversations between Moggi and the outgoing interior minister Giuseppe Pisanu.
According to the transcripts, in the days before the death of Pope John Paul II on April 2 last year Moggi attempted to pressure Pisanu to hold games regularly despite the pontiff's imminent death.
April 2, 2005, fell on a Saturday.
Juventus were due to play a match against Fiorentina, a team that at the time had had two players suspended and two others injured. The games were postponed.
In an earlier phone call, Pisanu asked Moggi to help third-division Torres, a club based in Pisanu's native Sardinia.
Pisanu released a statement following the publications saying he was "very displeased that wiretaps of no penal relevance were divulged arbitrarily, placing doubt on my conduct as Interior Minister."
He added: "I've known Luciano Moggi for 40 years and I don't have anything to hide about my relationship with him."
Prosecutors said last week that four Serie A clubs, Juventus, Lazio, AC Milan and Fiorentina, are involved in the match-fixing probe.
Wide net
The scandal has cast a long shadow over the Italian league, coming on top of persistent problems with financial irregularities and crowd violence in recent years.
Forty-one people have been ordered to appear for questioning for suspected criminal association including the Italy and Juventus goalkeeper, Gianluigi Buffon, the AC Milan vice president, Adriano galliani and the coaches of AC and Inter Milan, Carlo Ancelotti and Roberto Mancini.
Naples prosecutors said on Friday that investigators were looking into the rigging of 20 games from the 2004-05 season, all but one taking place in Serie A.
The clubs could face severe penalties, including being stripped of their trophies and relegation.
The national team is attempting to play down the scandal as it prepares for the forthcoming World Cup in Germany, where it is one of the favourites.
Rossi set about his task immediately saying he intended to contact prosecutors involved in the investigation and to nominate four sub-commissioners by Thursday.
"Seen from outside, the football world has a very strong conflict of interests," he told the ANSA news agency, saying more transparency was required.
"Football is an important sector for the social life of this country."