Grace Obuor And Fuseini Ibrahim Shine At Cape Coast Open Of GNPC Ghana Fastest Race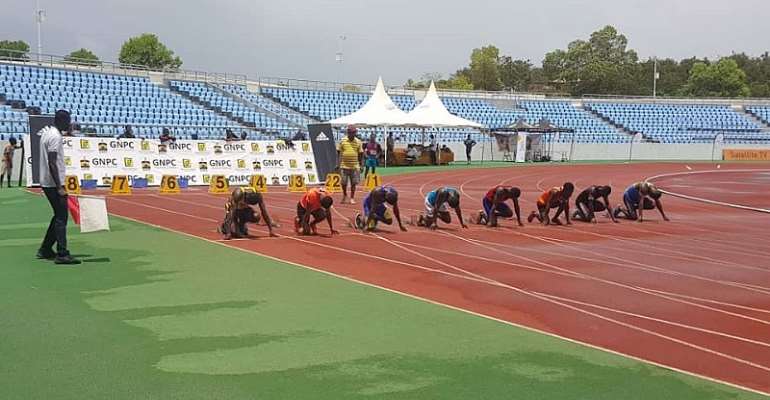 The Cape Coast Open of the 2020 GNPC Ghana Fastest Human lived to its billing with exciting results from international star Grace Obour of the University of Ghana and Ashanti Region with a time of 11.45 seconds, same as Josephine Avemegah from the University of Cape Coast and young Kwartemaa Benedicta of Okess in the Ashanti Region also running a time of 11.94 seconds.
Fuseini Ibrahim of the University of Education, Winneba (CR) clocked 10.02 seconds to win the mens event. He was followed by Solomon Hammond of Tema Methodist Day SHS who did 10.14 seconds, and Saminu Abdul Rashid of the GNPC Speedsters Club (Ash) coming third on 10.38 seconds.
Some students who took part were just a delight to watch at the Cape Coast Stadium, like Pearl Mawunya of Holy Child School who did 12.34 second in the under 18 girls as well as James Dadzie of Aggrey Memorial School who ran 10.56 seconds to beat Frederick Cobbinah, Mfantispim College and Daniel Amartey both of Mfantispim School.
GNPC GFH CAPE COAST OPEN MEET 2020 RESULTS
The Results Were By Hand Time
U10 (Boys) 60m
1st. Orlando Ewusi Baah, Gomoa Obuasi Sch. (CR) 8.00
2nd. John Appiah, Gomoa Obuasi Sch. (CR) 8.13
3rd. Maxwell K. Eshun, UCC Prim Sch (CR) 8.78
U10 Girls ( 60m)
1st. Vanessa A.T. Annan, Ucc Prim Sch (CR) 8.80
2nd. Abigail Amoah, Madina M/A Sch (GR) 9.21
3rd. Esi Abokomah Gyekye, UCC Prim Sch (CR) 9.22
U18 Boys 100m
1st. James Dadzie, Aggrey Memorial Sch (CR) 10.56
2nd. Frederick Cobbinah, Mfantispim College (CR) 10.70
3rd. Daniel Amartey, Mfantispim College (CR) 10.86
U18 Girls
1st. Pearl Mawunya, Holy Child School (CR) 12.34
2nd. Naseera E. Quansah, Barfikrom 'A' Jhs (CR) 12.55
3rd. Lovina Ewusi, Edinaman Shs (CR) 12.60
U15 (Boys)
1st. Godfred Aikins, Abura Ahmadiyya Sch (CR) 12.34
2nd. Godwin Mensah, Mankessim M/A School (CR) 12.43
3rd. John Amissah, Diabene Catholic Sch. (WR) 12.60
U15 Girls
1st. Bernice Bedin, St. Louis JHS (Ash) 13.03
2nd. Naziah Abdul Rahman, Atimatim Sch (Ash) 13.29
3rd. Amanda Kumanya, UCC JHS (CR) 13.34
Seniors (Males 100m)
1st. Fuseini Ibrahim, UEW (CR) 10.02
2nd. Solomon Hammond, Tema Meth. Day SHS (GR) 10.14
3rd. Saminu Abdul Rashid, Gnpc Speedsters Club (Ash) 10.38
Seniors ( Females)
1st. Grace Obour, UG (Ash) 11.45
2nd. Josephine Avemegah, UCC (CR) 11.45
3rd. Kwartemaa Benedicta, Okess (Ash) 11.94