Kwasi Appiah Launches Book Without GFA, NSA & MYS Officials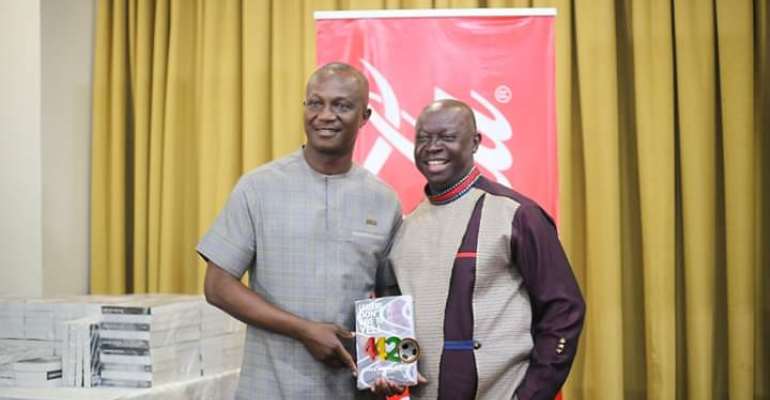 Dr James Kwasi Appiah, ex-Black Stars head coach, has launched his latest book titled "Leaders Don't Have To Yell" at Alisa Swiss Spirit Hotel at Ridge in Accra.
The book chronicles his life, education and professional journey to football as a player, captain and coaching career.
The book has also been categorized as a memoir of leadership and it's subtitled "National Team Coach on Leading High-Performing Teams".
Present at the launch were sports personalities like the GOC President Ben Nunoo Mensah, SWAG president Kwabena Yeboah, Naa Odofoley, former GFA Normalization Committee member and Kwabena Ankomah Aidoo who chaired the programme.
Also in attendance was his family members, colleagues at Asante Kotoko and sports journalists as well as supporters and fans.
Dr James Kwasi Appiah who hails from the Bono Ahafo region captained both Kumasi Asante Kotoko and the Black Stars during his playing career.
Added to his illustrious career was his enviable position as the coach of the Senior National Team, the Black Stars, a position he held until last year.
In his remarks on the book, the Executive Publisher, Mr Baffour Awuah Manu described Dr James Kwasi Appiah as a personality who has contributed greatly to Ghana Football. He was happy to be part of the successful 'Mayele Story'.
Mr Baffour Manu exhilarated Ghanaians to learn to put into writing their experiences in life so others can tap into it.
Coach Dr James Kwasi Appiah who shared what motivated him to write the book said "Very few people have had the opportunity to walk the path that my life has taken. As a result, I have seen things that only a few people have seen; I have had experiences that only a few people have had, and I have perspectives that only a few people have. Until now, the stories about the things I have seen, the experiences I have had and my perspectives on issues have been shared with only a relatively small group of people. So, as I thought about what purpose a book from me will serve, I became convinced that the time to commit my experiences and ideas into writing is now."
"While my stories and perspectives are mainly from the world of football, I hope that the lessons and the inspiration they provide will be useful to footballers, coaches, and administrators, as well as to the fans and those who have little or no interest in football.
The GOC president said the book is a marvellous venture and encouraged other sportsmen and women to put down what they go through in life to be a lesson for others.
Many of the personalities purchased the book with excitement and he autographed them, but conspicuously missing at the event were members of the FA executive and officials the Ministry of Youth & Sports and National Sports Authority (NSA).
In the 400-page memoir, Dr. Appiah offered his account of key events during his career as a player and as a coach and shared his thoughts on Ghana's all-time best players.
Here is his starting 11
Gk- Richard Kingson: "He has a good vision of the field, read the game well and had good anticipation skills".
Lateral defenders - Ernest Appau and Offei Ansah
Ernest – "During the 1980s when most of us were incorporating overlapping runs into our style of play, he was one of the best I ever saw".
Offei Ansah – "He was the kind of player we referred to as a "hard guy" due to how difficult it was to compete against him. He was tactically disciplined and always had a winning mentality"
4- Samuel Osei Kuffour – "… he had a commanding presence at the back. His aggressiveness and his winning mentality made him a first choice defender most of the times"
5- John Mensah -"His height and physical build made him stand out. Because of the speed, he was able to cover many areas of the defence. He was very good in the air and used his strength to dominate opponents. "
6- Papa Arko - "He always played with an attacking mindset and was very good about switching the pace of the game as needed. One of his unique qualities is his ability to control and shoot the ball very well with both left and right feet."
7- Michael Essien - "I selected him for this position on this team because he can play it well and switch smoothly if I needed to move him into another position. He knows how to make himself available for the ball, and he is very good at controlling the pace of the game."
8. Stephen Appiah - "He was technically skilful, had a good vision of the field and covered a lot of ground in the midfield. He led by example and controlled what was happening on the field with his ball-handling and his motivation of other players. "
9. Asamoah Gyan – "Gyan is a powerful weapon in a team's attack. He has great speed and knows how to get around defenders. "
10.Abedi Pele – "A natural leader, his tendency to always want the ball and his ability to create scoring opportunities for himself or other players made him an energizing part of the attack."
11. Samuel Opoku Nti – "His high work rate and his intelligence on the field made him extremely successful at both club and the national team."
Sulley Muntari, Tony Yeboah, Harrison Afful, Frimpong Manso, Sam Ampeh, Nketia Yawson, Kofi Badu, Kwadwo Asamoah, Andre Dede Ayew, Paintsil, Boye, Edward Ansah make the bench.