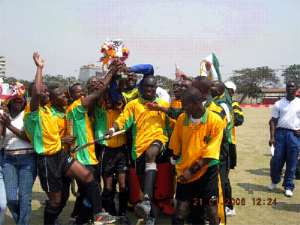 Accra, April 8, GNA - Golden Sticks of Ghana Commercial Bank defeated Customs, Excise and Preventive Service (CEPS) 1-0 in the finals of this year's Areeba Hockey Gala played at the Theodosia Okoh Hockey Pitch in Accra on Saturday.
The gala which is to usher in the Greater Accra Hockey League, saw Gilbert Denyo netting the only goal of the match for Golden Sticks five minutes inside the second half.
Mr Lawrence Adu Mante, Managing Director of Ghana Commercial Bank presented the trophy to Captain Richard Doe of Golden Sticks.
On their way to the finals, Golden Sticks edged out Police Service with a 3-1 win while CEPS eliminated Trustees 5-4 on penalties. In the Seniors' encounter, Multisticks won the trophy by beating Citizens 2-0 in the finals after whacking NDK Financiers 4-0.
Mr Oko Nikoi Dzani, Chairman of the Ghana Hockey Association praised Areeba for sponsoring the event and asked other corporate bodies to help develop the sport.