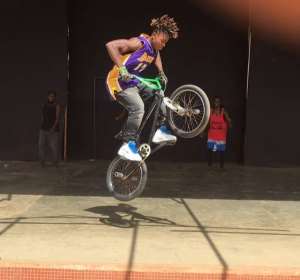 An event to bring bicycle riders comes off at the Usher Fort in Accra on December 7, 2019, from 7am.
The programmed under the brand name 'December on the Bike' is the brainchild on Von Nii Otto Coffie, a media and events promoter.
He said the day will be an occasion to celebrate riding and riders would be given the opportunity to display their skills on the bicycle.
According to Nii Otto Cofie, the event is also to promote the 'Year of Return' activities, and create an avenue for cyclists and riding fans to have fun.
Among the guests invited to grace the show is international acrobat cyclist, Benardo who recently returned from Europe.
He said BMX riding is a big event abroad so companies should support to create more entertainment platforms for Ghanaians.
He expressed that people with all kinds and shapes on bicycles are invited.