Amoah enjoying second chance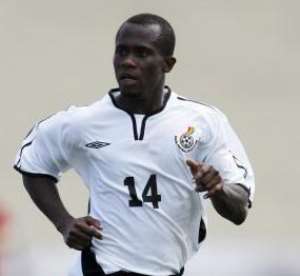 Two years ago, if you had asked a Ghanaian football fan about Matthew Amoah they most likely would have been puzzled. The 25-year-old has a strange relationship with the supporters back home despite playing an important role in helping the team to qualify for their first FIFA World Cup™ finals.
Amoah scored four times in the qualifiers for Germany 2006 but remains an unsung hero in Ghana. Not even his flurry of goals seemingly every other weekend in the Dutch league with Vitesse Arnhem earned him star status with Ghanaian fans. This oddity is largely due to the fact that the striker did not play for long in Ghana, leaving after an agent spotted him playing for amateur side Ambassadors of Tema.
Amoah, who joined German club Borussia Dortmund in December, subsequently spent seven years in the Netherlands, scoring over 70 goals in 189 games for Vitesse and Fortuna Sittard, where he spent a spell on loan. But his prolific performances failed to attract the attention of Ghanaian officials and a call-up to the national side seemed to have passed him by.
Following the arrival of current Ghana coach Ratomir Dujkovic, however, the striker's international career looks to have taken a different turn.
Amoah is in Egypt for his second CAF African Cup of Nations tournament after being part of the youthful Ghana squad that reached the quarter-finals in Mali four years ago. He has enjoyed a prominent role since Dujkovic took over at the end of 2004, playing in every match since March last year. And since bringing to an end his three-year absence from the team in the qualifier against Congo DR in Kinshasa, Amoah has not disappointed.
"The new coach (Dujkovic) invited me and I said 'OK, I have to show what I have and what I can b! ring to the team' and, yes, it has really worked out well for me. Things have gone really nicely for me and for the team. I feel a big part of the set-up," Amoah said recently.
Flair may not be his strong point, but the pocket-sized striker makes up for that with other assets. Good vision and a poacher's instinct are the qualities that have boosted Amoah's status. Being in the right place at the right time sees him grab his share of close-range strikes but he can also accelerate on a mazy run if he finds space and is given the chance to go at defenders. Dortmund may have certainly found a diamond in the rough just waiting to glitter when Amoah returns to the Bundesliga after the Nations Cup in Egypt. For now, though, it is only continental glory on his mind. And Amoah is certainly one of the players with enormous responsibilities in a Ghana side now reduced to less than full strength through the absences of Michael Essien and Sulley Muntari.
Amoah, who attended! the same secondary school as Essien, was the target of a possible transfer to England with Chelsea mentioned as possible front-runners. But he eventually joined Dortmund – a move facilitated by the German club's coach, Bert van Marwijk, who was his manager at former club Fortuna Sittard. Van Marwijk has great faith in the player as Hans-Joachim Watzke, Dortmund's director of finance, noted: "There were a number of options but Amoah was the one Van Marwijk wanted."
Most of Ghana's goals in the Germany 2006 qualifiers may have been scored by midfielders but with the Nations Cup under way in Egypt, now is the time when the country's most dependable striker will need to shine.