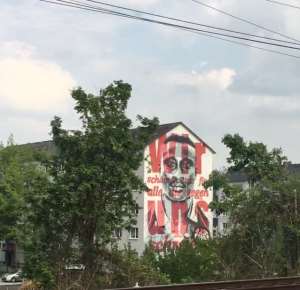 Fans of German Bundesliga side, Eintracht Frankfurt haven't forgotten their hero Anthony Yeboah.
A masterfully detailed graffiti has been painted in his honor on one of the buildings in the city.
The Ghanaian international played for the club between 1990 and 1995, Yeboah twice finished a Bundesliga top scorer in 1993 and 1995.
Yeboah scored 68 goals in 123 appearances for the Eagles where he became the club's first black player and later made history as the first black player to captain a Bundesliga side.